Hidden gem: Cafe Fusion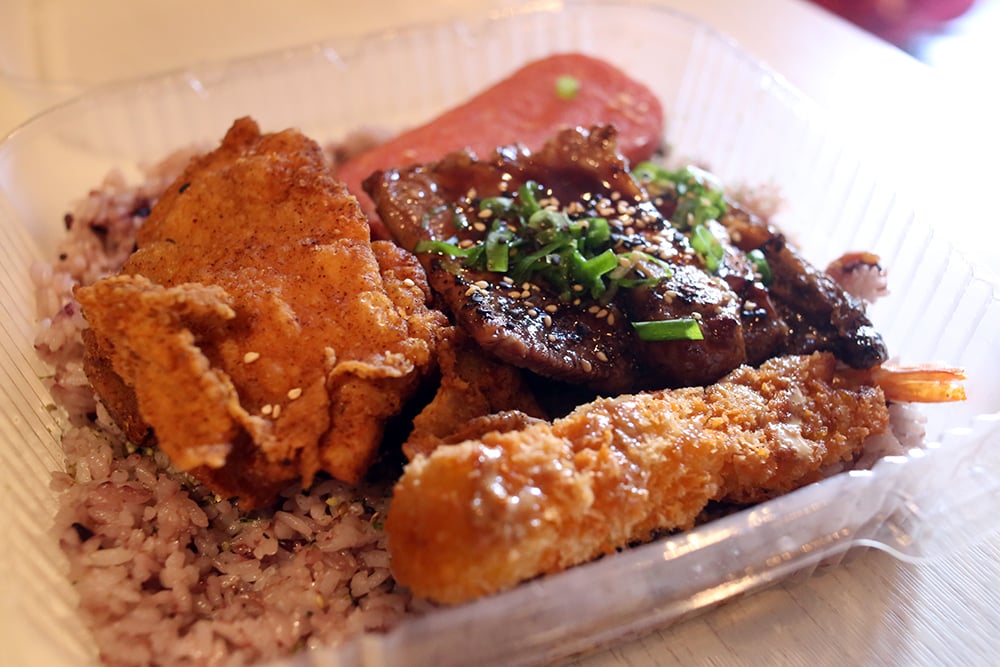 I had promised babes that I would take her to a cafe for breakfast. Someplace she's never been before. I like surprises, so on a random weekday morning, I took her to church. Sort of. Cafe Fusion is located inside the New Hope Chapel on Sand Island Access Road.
Our first time here, we were impressed by the mochi waffles and french toast. If I find a place I like enough to write about it, I go back at least one or two more times, to make sure I'm on point. This piece is about our second visit.
I lied, it was our third. The second time was on a weekend. Come to find out, they're closed on weekends. So we came back for breakfast, only to find out breakfast ends at 10:30 a.m., and even though an all-day breakfast menu is available, the mochi waffles and french toast weren't, so we checked out their lunch/brunch menu.
Babes got herself an Americano ($2.25), while I ordered a caramel macchiato ($3.25). Babes explained poetically that an Americano is basically an expresso and hot water, the perfect cup for the afternoon, with a mellow taste and fragrant aroma. My caramel macchiato was light, creamy and left me feeling all warm and fuzzy. A balanced sweetness.
Then we got into it. Babes ordered their kalbi burger ($10). Cafe Fusion makes their own kalbi patties, which they top off with a sunny-side-up egg. Add some cheese and place the hot mess in a taro bun and yes, it's as delicious as it sounds. There was a mild spice. The juices dribbled down the sides. The aftertaste was slightly sweet. So many things going on.
Accompanying the burger were potato wedges, but not typical potato wedges. These had to be some of the lightest and fluffiest potato wedges I've had the pleasure to eat. I enjoyed them so much that I ordered an extra side ($5) with garlic. While tasty, it wasn't as fluffy and crunchy as the first batch that came with the kalbi burger.
I tried to play it smart and got their sampler CF Pack ($10). This bento has their most popular entrees: fried shrimp, kalbi, fried chicken and Spam over furikake rice. Like any mixed bag, it was a mixed bag. The standout was the fried shrimp. The batter was light and not greasy. The ratio of shrimp to batter favored the shrimp, which is always good. The fried chicken was interesting. The light batter had a definite crunch with very little grease, but the chicken was a little bland and dry.
The kalbi was the opposite story. Sweet and salty flavors lingered after every bite. The meat was tender enough to chew off the bone, a quality I look for in my kalbi. The Spam was thick and juicy, with a slight crisp. The furikake rice was chewy, with a crunchy bottom, a texture experience I enjoyed. I would say the CF Pack is a healthier take on the Zip Pac.
When you go, just be aware of the parking situation. To be blunt, it's tough. You'll have to tandem park. And sign in with the front desk, in case you need to move your car. It wasn't an issue when we went, but consider yourselves warned.
Babes and I ended brunch feeling satisfied, with plans to come back again for breakfast. It's not the same as going to church, and I do still go on Christmas and Easter. But this way is much tastier.
Cafe Fusion
290 Sand Island Access Rd.
@cafefusionhawaii
842-4242