Hidden gem: Bev Mart
"If you tell me another store has a better craft beer selection, I will go out and get a better selection that day"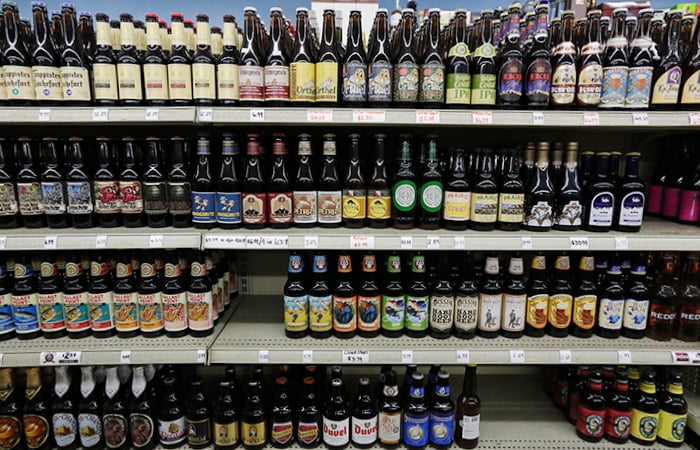 I've passed this corner store at Kapiolani and Date Street hundreds, if not thousands of times, and always wrote it off as another neighborhood spot selling green bottles, cigarettes and boiled peanuts.
Then Michael Watanabe, a good friend and beer aficionado, told me about the extensive selection of craft beer hidden inside. I had to check it out.
A couple of years ago, it turns out, owner and manager Thomas Hwang took over the former E Mart with his father. Already a craft beer devotee, he began its transformation from a convenience store into Bev Mart, a liquor store with about 100 craft beers among its 500 items.
To get the most varied selection, he sources from nearly every local distributor and encourages customers to recommend new craft beers, which he will request. "I will try every beer once and will rarely have one twice," Hwang says about his method of choosing.
There's an entire wall dedicated to mixing and matching beer packs. If you're looking to try a number of beers without committing to more than one bottle of each, there are discounts of 5 percent off a 6-pack and 10 percent off a 12-pack.
To keep up with the latest brews, Hwang listens to podcasts, reads blogs and monitors Rate Beer and Beer Advocate. When I asked if he has a favorite beer, he says he can never decide on one at any given time. But there was that time he drank Knee Deep Hoparillo (a triple IPA) for a month straight.
Bev Mart regulars know of the rare and highly allocated beers (and whiskeys) that find their way onto Hwang's shelves. Sometimes it will just be one or two bottles; other times it's the only case that makes it to Hawaii. He's brought in some Cantillon from Belgium as well as 12-year Old World Whistle Pig.
Recently, Bev Mart received the Goose Island Bourbon County Stout, a highly anticipated release this year and sold out in two hours. Be the first to know about new releases and specials by following them on Instagram @BevMartOahu.
With Christmas just around the corner, I'll be stopping in and grabbing some gifts. My picks: Not Your Father's Root Beer, Ovila Belgian style Dubbel and the Lanikai Brewing Pillbox Porter. For friends and family, of course.
Bev Mart
2441 Date St.
947-5100
Daily 9 a.m. to 10 p.m.