Hidden gem: Aloha Kitchen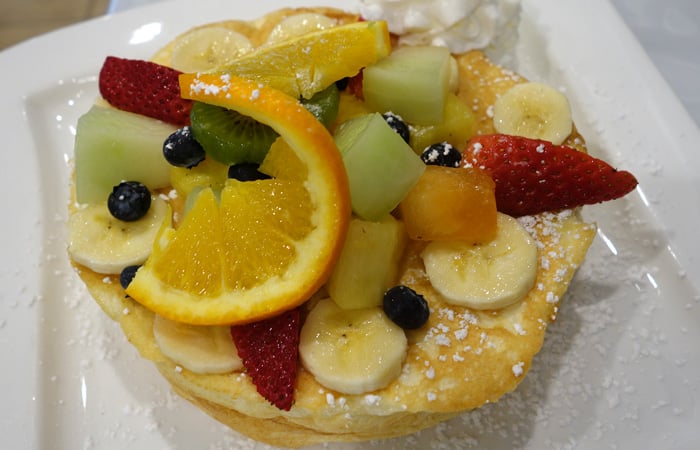 Several months ago, fellow blogger Olena Heu wanted to surprise me with a newish restaurant she had found. As luck would have it, the restaurant was closing up for the day and wouldn't take us. It wasn't a wash, since it enabled us to discover VJ's Waikiki Dogs & Burgers.
I didn't even think about that restaurant again. Well, fast forward to a couple of weeks ago: my foodie friend Sean Morris invited me to breakfast with his family. When I got there, I realized it was the restaurant that Olena and I had tried to patronize several months before! It's now been open about a year, so it's not something new, but there are elements that make it quite a hidden gem. (So don't kill me, Olena. I owe you brunch!)
I'm glad I'm not writing about this until now, because when we first ate there, we were bowled over by the breakfast and didn't understand why our friends in the area said, "It's just okay." As it turned out, they had a new chef since September — right after Olena and I attempted a meal. I've gone back a few times since then, and was surprised to find they have yet a new chef, Robert Purkhiser, who just took over this past weekend.
The restaurant is still owned by Toshiyuki Yamamoto, who is the coach for Japan's women's gymnastics team, so the recipes from Tokyo that Aloha Table opened with remain. That's the good news. The bad news is that with the turnover in chefs, although they experiment with promising new dishes, the consistency in the entrees is a little off. So my very strong recommendation is that you order breakfast, which is served all day, and zoom in on those soufflé pancakes. They're as delicious as they are pretty.
The signature fruit soufflé pancake is a little more expensive than the others, but it's the most colorful and topped with the most variety of fruit. The soufflé pancakes are light and airy, almost like angel food cake. While the pancake is great as is, the syrup does give it an extra oomph.
One of our other favorites was the apple soufflé ala mode, which is topped with caramelized apples and vanilla ice cream. The caramel is a bit crunchy and sticky, but we liked it that way.
My niece Morgen was visiting from Minnesota, so she was hankering for coconut flavors. We ordered a coconut soufflé pancake. This is another one that doesn't need the extra haupia syrup, but there we were, mopping it up. Note that the Diamond Head soufflé pancake is just a plain one, with orange slices on the side.
But there's more to breakfast than soufflé pancakes. The Benedicts are also highly recommended. The hollandaise sauce is light and not too lemony, but still has a hint of richness to add to the dish. The salmon Benedict is just right, not too salty.
We also loved the lobster Benedict, which isn't on the menu but seems to always be offered. This was delicious and I would recommend it in a heartbeat, but I need to note two things: One, when I went back to order the salmon Benedict and was told it was sold out, this lobster Benedict was offered — but the waiter didn't tell me it would cost $2 more. It isn't a huge deal, but most diners want to be told that the alternative dish will cost more. Two, this was what it looked like the first time I had it. When I had it yesterday, it was topped with sea asparagus and there was no side salad.
The bagel sammy is a good, no nonsense meal. There's not much I can say about it except that we liked that the bagel wasn't over-chewy, like jerky.
For a lighter alternative, get the acai bowl. We were told that the acai berries come frozen (but whole) to Aloha Kitchen, instead of using frozen Sambazon puree. If that's true, I'm all for it, since acai is full of antioxidants.

I'm going to take a break in breakfast dishes to show you the dinner items we didn't care for. Well, I didn't care for. Others liked the chicken, but I found it dry even with the help of extra barbecue sauce. Our waiter raved about the spam macaroni and cheese, so I don't know if we got it on an off night. So choose wisely, and when in doubt, order breakfast.
The entire menu is served all day so you can order breakfast for dinner and dinner for breakfast. We liked the pulled smoked pork sandwich, which was moist and full of smoky flavor. The slaw was just the right amount of crunch and tart to work with the pork.
And finally, we loved the spiny lobster risotto topped with white truffle oil. We couldn't get enough of it and were carefully portioning it out so we wouldn't fight! It's rich, creamy, and has a nice amount of lobster chunks in it. If you must have a dinner entree, this is the one.
Aloha Kitchen is open Tuesday through Saturday from 8 a.m. to 1 p.m. and again from 6 to 10 p.m.; Sundays and Mondays, 8 a.m. to 1 p.m. Parking is on the street (meters), at the nearby lot ($4), or in Canterbury Place ($4). For more photos, click here.
Aloha Kitchen
432 Ena Rd.
808-943-6105