Hidden gem: Aloha Edibles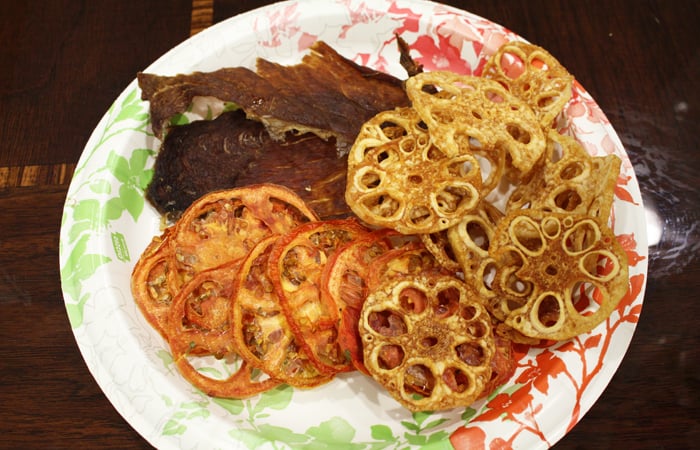 I've always been a big snacker – chips, cookies and candy are my vice. So when Diane introduced me to Aloha Edibles' bacon jerky last year, I had to find out where I could find those beautifully crispy strips, and get a few bags for my home, my desk, my car, you get gist.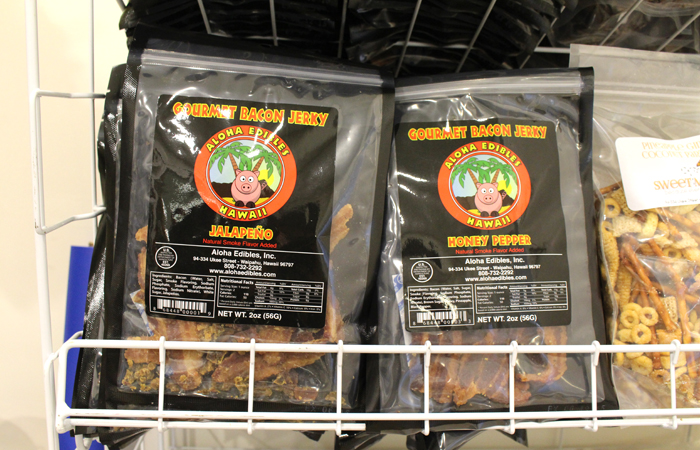 Little did I know that Aloha Edibles carries many more snack foods including beef jerky chips (think of a potato chip made from beef), party mixes, flavored granolas, dehydrated Kamuela tomatoes, Hawaiian salt and more.
Its biggest seller is the beef jerky chips which dates back to the days of Kaimuki Grill. Starting with a small dehydrator, the team worked on perfecting the chip starting from their grandma's recipe. Today each chip undergoes a five day process from start to finish. They start with a nice piece of beef, slice it really thin, add seasoning and leave it in the dehydrator to crisp.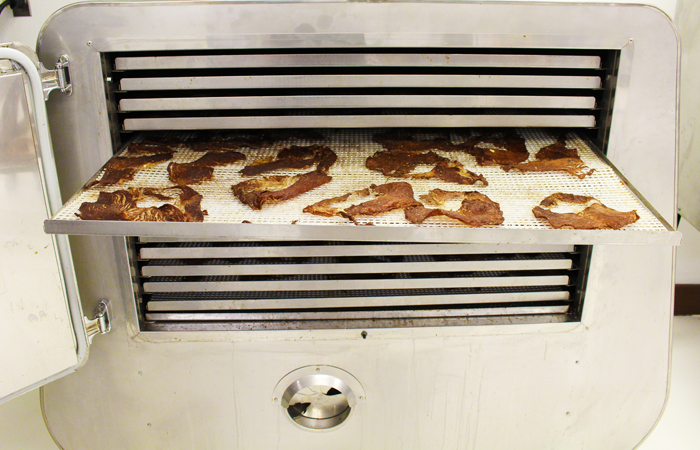 I got a sampler plate to taste a little bit of everything. The lotus root chips are addicting; I kept eating them like potato chips. The dehydrated tomatoes have a nice slight sweetness to it that balances the natural acidity of the tomato. And I was surprised that there was so much tomato left to eat after it was dehydrated, since tomatoes are full of water.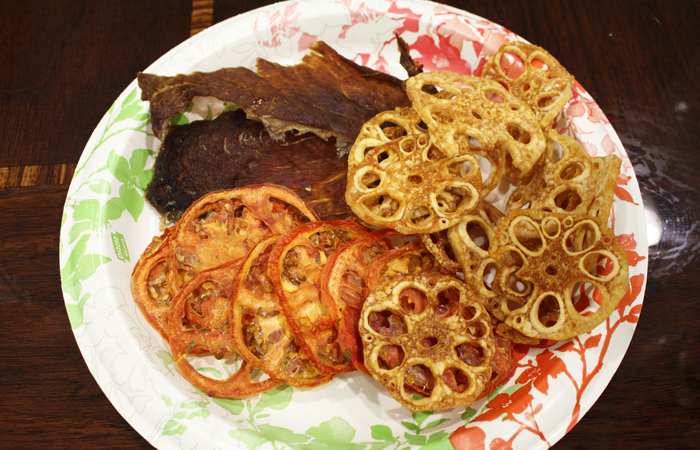 Currently, you can find Aloha Edibles at the following farmers' markets and retail stores:
Matsumoto Shave Ice
Rainbow Drive Inn
Fort Street Mall Farmers' Market (Tuesday, Friday; 6 a.m.-2 p.m.)
Kapolei High School Farmers' Market (Thursday, 3 p.m.-6:30 p.m.)
Windward Mall Farmers' Market (Sunday, 9:45 a.m.-2 p.m.)
Aloha Edibles
94-334 Ukee St., Waipio.
By appt. only
808-732-2292