Hidden gem: Ai Love Nalo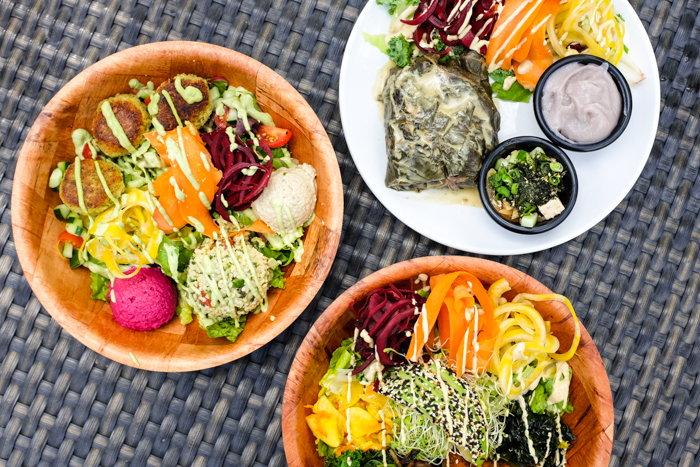 If you follow me on Instagram, you have a general idea of my diet. It's 90 percent burgers and the rest is an overflowing mix plate of noodles, pizza and tacos. So when I get a tip-off about a plant-based restaurant serving farm-fresh Hawaiian food, smoothies and sweet treats, I have to investigate. Here's the kicker: It's in Waimanalo.
To me, Nalo is a neighbor island. The stop-and-smell-the-pikake pace of everything is just as foreign as having more veggies on my plate than meat. Ai Love Nalo just might change that.
We arrive before the kitchen is ready to serve at 10:30 a.m., so we sit out back in the Garden of Eatin' to sip our drinks while we wait.
I enjoy my tulsi basil mint tea for the herbaceous, minty hit. If these greens are not your thing, I recommend getting it sweetened with agave nectar.
The Medi Bowl's kalo falafel (kalofel) is fantastic on its own, but once you mix up everything, you'll find the ribbons of root vegetables (grown on the property) add pops of freshness and flavor.
Although the kabocha in the Buddha Bowl could have stayed in the oven a bit longer, I love how its flavor goes with the wakame, pickles and mushrooms. After finishing this bowl, not once do I feel hungry until driving to dinner at 7:30 p.m.
This Hawaiian plate is so ono, it's unreal. The deep earthy flavor of the slow-cooked veggies in the luau leaves pairs perfectly with the freshly made poi. Wow, laulau is right.
After we order, I find out that Ai Love Nalo was opened last year by Malia Smith, my former professor at Hawaii Pacific University, and her husband to make sustainable food. The delicious vegan dishes they serve up make their mission to educate others about sustainable practices very easy to swallow.
Ai Love Nalo
41-1025 Kalanianaole Hwy
Wednesday-Monday 9 a.m. – 5 p.m. (closed Tuesday)
www.ailovenalo.com