HFWF16: Hungry Monkey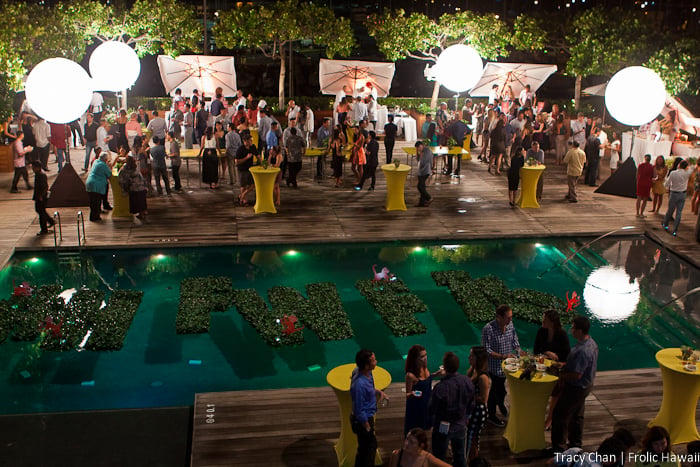 Savory morsels, decadent desserts, potent but delicious libations – Hawaii Food and Wine Festival's Hungry Monkey event at The Modern poolside decks Thursday evening had it all.
In celebration of the Year of the Fire Monkey, and the adventurous and curious nature this sign brings to the Chinese Zodiac, 13 innovative chefs from around the globe brought their creativity to the table, accompanied by handcrafted cocktails, selected wine and sake, and a special First Hawaiian Bank VIP lounge serving exclusive whiskeys.
The second major HFWF event on Oahu this year, Hungry Monkey lit up The Modern's pool decks.
Guest chef Art Smith (second from right), representing Chicago, was Oprah Winfrey's personal chef for 10 years and the founder of Common Threads, a non-profit that teaches low-income kids to cook healthy and affordable meals.
One of the most buzzed-about dishes of the evening was hosting chef Roy Yamaguchi's amazing savory lamb pastrami with curry aioli, Korean pickles and Ricotta Salata on a slice of crispy sourdough rye.
Another guest chef, Aiyin Li, of Beijing's Li Jia Cai Restaurant and the descendant of an Imperial Court chef for the Qing Dynasty, was serving up Kulana beef chips with Fei Chui tofu.
For those needing a pick-me-up after work, Pint + Jigger's frosty Irish coffee with Redbreast Whiskey hit the spot.
Shake-off! Guest mixologists Lynette Marrero (NYC) and Lauren Mote (Canada) ham it up for the camera.
Nobu Waikiki enticed attendees with the scent of these delicious seared ahi slices, served on the second floor poolside deck.
Chef Ken Oringer of Toro NYC & Boston (fourth from left) and the crew from Hiilaniwai at Windward Community College.
Honolulu Coffee Company Pastry Chef Brian Sung is one to watch. Formerly of the Michael Mina Group in San Francisco, he advanced within the company to run the pastry program at RN74, a signature Michael Mina restaurant, then moved across the ocean to work as Pastry Chef at Alan Wong's. Where will he go from here? One thing is for sure: It will involve delicious, creative desserts!
—
Hawaii Food and Wine Festival continues with A Culinary Flight at the Hawaii Convention Center on Friday, Oct. 28, Foodtopia at Ko'olina Resort on Saturday, Oct. 29 and the Sixth Annual Halekulani Culinary Masters Gala Series: East Meets West Sunday, October 30 at Halekulani Hotel.