Here's what Hawaii restaurants are doing about coronavirus
Local eateries are rising to an unprecedented challenge with takeout, curbside pickup and delivery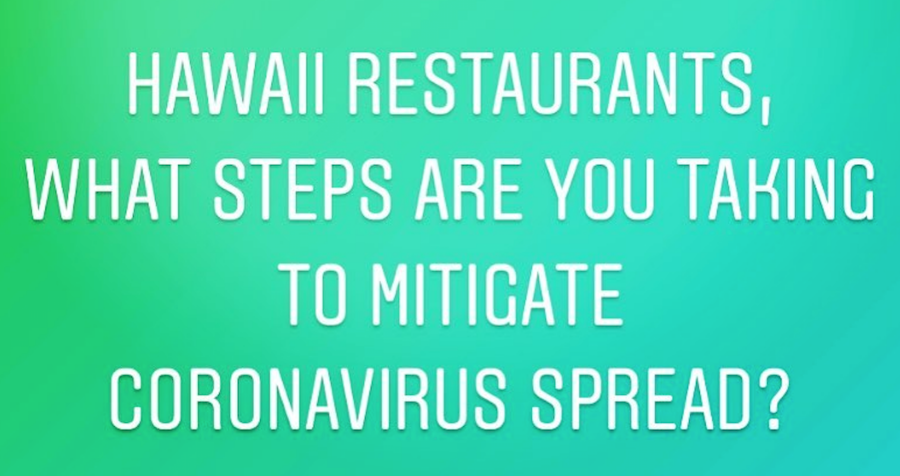 Editor's note: Frolic is monitoring the evolving coronavirus situation as it affects our local foodscape. Now that the U.S. government has recommended not eating at restaurants for the next 15 days, we're compiling a quick list of who's doing takeout, curbside pickup and delivery.
Kaimuki Superette is coming up with prepared meals for takeout. MW is adding online ordering, drive-through pickup and delivery to its current phone orders for bentos, salads, wraps, sides and desserts. Ichiriki and Maido Nabeya are offering takeout hot pot sets.
They're not the only ones taking action against the fear that's driving down business at restaurants. OpenTable notes that after holding steady in February, diner numbers at its Honolulu member eateries were down 22% this past Saturday from a year earlier. The picture was a lot worse in Seattle, New York City and Boston, where numbers sank more than 60%.
We took to Instagram to ask Hawaii restaurants what they're doing in this unprecedented climate. Here's what they said.
@daspot_healthfoods We are offering curbside pickup and delivery.
@insta.jenbarrett @fetehawaii is offering curbside pickup. @townkaimuki has mentioned takeout and looking into delivery
@annamillershawaii We are ramping up for more takeout. We already offered it but just getting ready for more!
@bravohawaii Takeout has always been popular for us (especially at dinner) so we are ready!
@bogartscafe Takeout was already big for us, so this option will probably be even more so in the coming days!
@joycupnoodles We offer takeout of our noodle dishes (hot & cold)
@delamesahawaii is offering on-farm pickups of their CSA boxes. Also delivery to Kailua area.
@themellymo @delamesahawaii do you know of any other CSA boxes for other locations on island?
@delamesahawaii @themellymo try @maoorganicfarms @kahumanaorganicfarms @farmlinkhawaii
@wasabibistrohi Bentos at lunch on the weekdays is a popular option with workers in Waikiki!
@anyplacehawaii We offer takeout! Check out our menu on our IG story highlights
@sweetrevengehnl We deliver for orders in the Honolulu area of 5 pies or more. We have ready-to-eat and frozen pot pies to stash in your freezer and bake when you need an easy dinner. We can also sell ready-to-heat and -bake pizzas. Pickup available at our kitchen and JABSOM Cafe (at UH Medical School in Kakaako)
@akasaka_hawaii We offer takeout of our fresh sushi and other dishes
@daultimategrindz Takeout has always been available, we are adding curbside pickup in our parking lot and will deliver for free around the area with a 5-plate minimum 808-888-3872. Also delivery by @bitesquad and @quickcuisine.hawaii available
@buzzsoriginalsteakhouse Offering (and encouraging) takeout orders, reducing our seating availability, routine sanitization practices
@driesubie @nabeyamaido is doing takeout broths, takeout sauces, takeout platters and our ready-to-eat udon bowls!
@feast808 All of our plates are takeout friendly and ready to grind! If you call in an order for pickup, you can pull into our driveway for easy access.
@ichirikinabe We can't believe how popular our takeout option is! Even without the crisis!
@lanaiwai We are doing drive-by pickups for our Lanai residents.
@a_r_v_o We're doing curbside takeaway and text message ordering pay via Venmo for minimal contact and smooth ordering!
@12thavegrill Mahalo nui loa! We are definitely doing takeout of our menu & daily specials!!!
@lecrepecafehawaii Phone orders – Uber Eats – DoorDash – Bite Squad – Grubhub
@oahumexicangrill We are offering contactless pick up orders to go. Customers can order and pay at the following link: https://www.omg.menu.
@redfishpoke We are offering curbside pick-up. Call at 532-6420 to place your order, we will process payment over the phone and our team will deliver your order to you in front of Pioneer Saloon.