Here it is: Shirokiya's new Japan Village Walk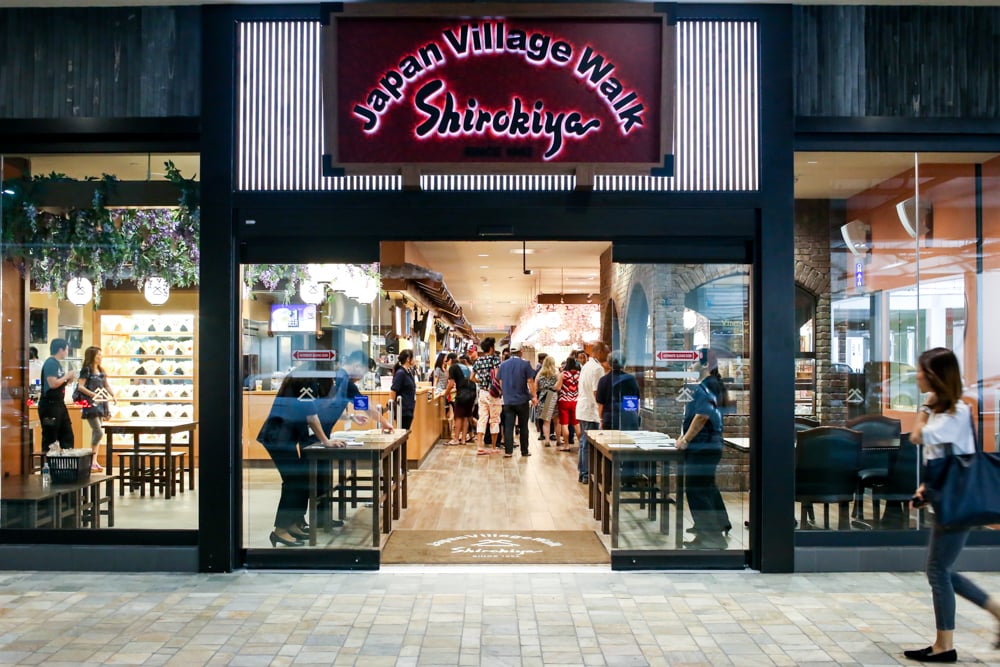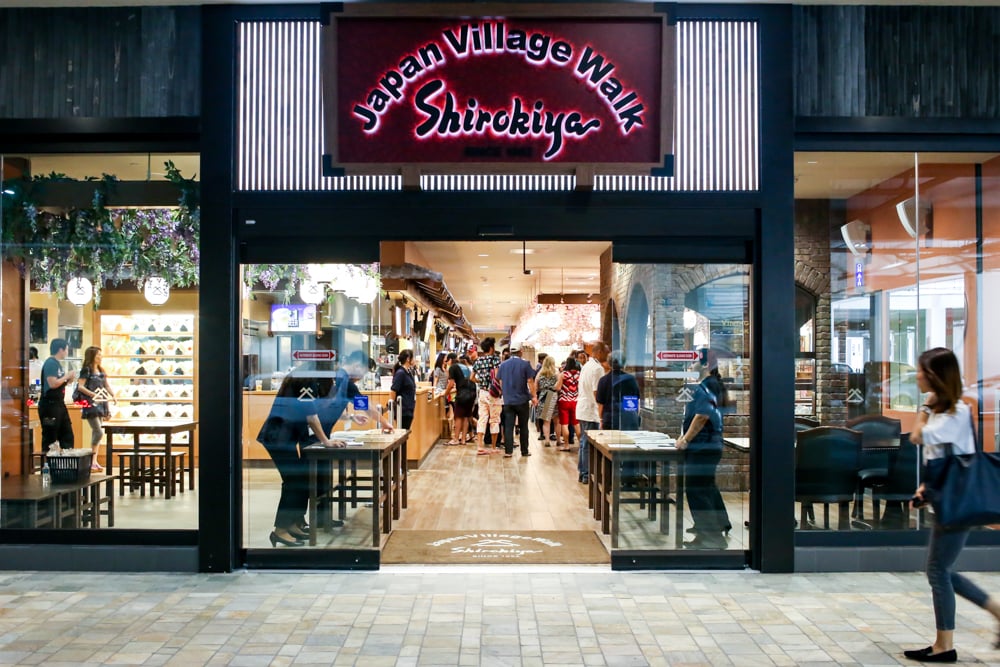 The moment is nearly upon us! Ever since Shirokiya shuttered its original location across Macy's at Ala Moana Center last spring, we've been twiddling our thumbs waiting for $1 beers, oishii Yataimura eats and perfect pastries again. On Tuesday and Wednesday, the first 1,000 lucky patrons will get to eat their way through the brand spanking new Japan Village Walk before the grand opening celebration at 10 a.m. Saturday, June 25.
Meanwhile, we just got a look today!
Located on the street level of the new Ewa Wing expansion, the new Shirokiya is modeled after the maze-like streets of old Kyoto. Village Walk will more than triple the offerings of the old Yataimura offerings, with over 50 shops serving up an abundance of food options.
So it's enormous. The wagyu, seafood and zeppin plazas line the perimeter with wagyu beef, fresh seafood and merchandise imported directly from Japan. These also serve as the gateway shops of Shirokiya's exclusive Vintage Cave restaurant. Prices here will range anywhere from $18 to over $40 for ala carte items like wagyu filet mignon steak to braised fish and curry bowls.
The main beer garden, famous for its $1 beers, forms the center of the nearly 45,000-square-foot dining hall. Surrounding it is seating for 900 people and more than 30 shops offering everything from takoyaki to sushi and ramen. Five alcohol counters will quench your thirst for beer as well as sake, shochu and wine.
Expect to find your old-time favorite vendors like Toyo Sushi and Takoyaki Yamachan alongside new options like tonkotsu ramen from Gasho Ken and kakigori (Japanese shave ice) from Hikotaro.
Shirokiya Japan Village Walk Shops
Wagyu Plaza
Steak & Hamburger
Beef Katsu & Mince Meat Katsu
Roast Beef
Curry & Stew
Sukiyaki & Shabushabu
Salad & Carpaccio
Seafood Plaza
Salad & Soup
Sashimi & Carpaccio
Broiled Fish
Fish Market
Simmered Fish
Hot Pot
Tempura & Fried Fish
Curry & Stew
Bakery
Vintage Cave Bakery
Kulu Kulu Bakery
Yataimura
Tokyo Hotdogs
Sakura Go Go (fresh bento)
Zunda Saryo (confections)
Mei-Ko-Ken (yakiniku bento)
Gasho Ken (ramen)
Toyo Sushi (sushi & bento)
S&S Thai Kitchen (Thai)
Musubi Cafe Iyasume (musubi & onigiri)
Usagiya (soba & udon)
Sea Dragon (Korean)
Jiraya (tempura)
Steakhouse Pineapple (steak)
Manichi Ifudodo (ramen)
Yoshida Meat (karaage & croquette)
Takoyaki Yamachan (takoyaki)
Carp Dori (yakitori)
Totte (okazuya)
Magic Fish Sakura (fishcake & poke)
God-San (okonomiyaki & yakisoba)
Tokugawa (kushikatsu & tonkatsu)
Malia's Cafe (Hawaiian)
Onoya (maze soba)
Dragon Garden (Chinese)
Udon Gamadashi (hakata udon)
Marion Crepes (crepes)
Honolulu Burger Co (burgers)
Tamura (yakiniku bento)
Aloha Oven (pizza)
Hale Mai (poke & handrolls)
Honolulu Juice Factory (boba & sweets)
Sushi Omura (sushi)
Hikotaro (Kyoto sweets)
Shirokiya Japan Village Walk
1450 Ala Moana Blvd, #1360
Ewa Wing, Street level
japanvillagewalk.com/