Hennessy in Hawaii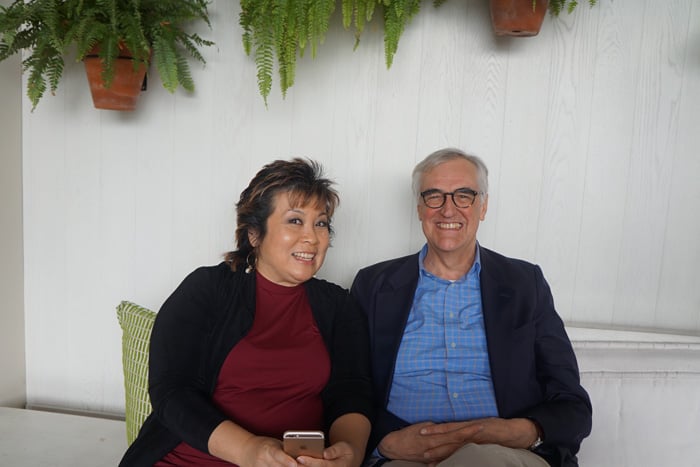 Maurice Hennessy, the eighth-generation descendant of the cognac company founder, was in town recently to educate some special customers about the family's premium line of spirits. I got a few minutes with him for an exclusive talk story session about cognac, about the company's history, and a few fun facts about his family.
Most people know that Irishman Richard Hennessy founded the distillery in France in 1765. But how did he get there? Due to political unrest in Ireland, Hennessy went to France in 1724 to fight in the French Army of King Louis XV. Eventually, the Irish Brigade helped the French to win, and from there he settled in the Cognac region, where he began distilling wine to produce brandy. Thus, Hennessy cognac was born.
Richard may have created the special cognac, but his son James took the ball and ran with it. He linked up with the Martell Cognac dynasty through marriage and became one of the first drink producers to begin trade with the Revolutionary Government, while hooking up with traders in London and New York in the 1800s.
Over time, the Hennessy cognacs have enjoyed popularity with the upscale, country club set, but unlike other luxury brands, experienced a resurgence among young, hip consumers thanks to its mention in rap music. The word Hennessy or cognac is mentioned in more than 1,000 songs by musicians like Kanye West, Notorious BIG, Nas, Dr. Dre, 2Pac, Rick Ross, and 50 Cent. Like James Hennessy did in the 1800s, the company is taking that ball and running with it, hooking up with hip, multicultural pioneers in art and fashion.
Here's a little clip from the end of our little meeting. It was so nice to sit with someone so refined and dignified, who was down to earth and completely approachable. In fact, after this video was done, we ate a couple of malasadas and got sugar everywhere. So fun!
Hennessy often enjoys his cognac neat, but suggested that in a warm tropical climate like Hawaii, we drop an ice cube in. Not a fan of drinking your spirits neat? Here's a recipe for the popular Sidecar cocktail.
2 oz Hennessy V.S or V.S.O.P Privilège
.75 oz Grand Marnier
.5 oz Fresh Lemon Juice
Garnish: Lemon Twist and sugared rim
Glass: Coupe or Martini
Add all ingredients to a shaker tin with ice, shake until chilled, strain into a chilled cocktail coupe or martini glass, garnish with a lemon twist, and an optional sugared rim.