Help local brewpubs and bars — buy their takeout beer
Businesses that have been ordered to close need to sell what's in their vats and kegs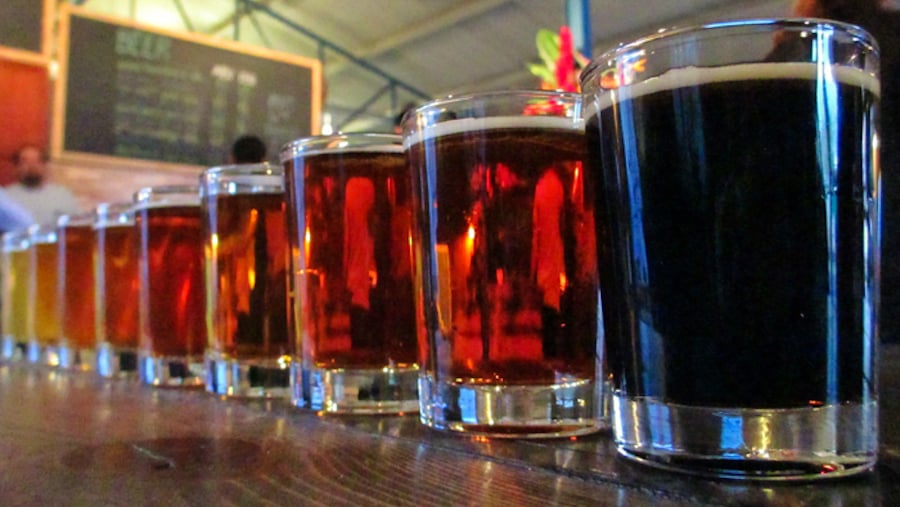 Hunkering down at home isn't without its bright spots. Here's where your favorite local craft beers are available in growlers.
Aloha Beer Co.
Closed
Beer Lab HI
Bring in your own 64- or 32-oounce growlers or buy one of Beer Lab's 64-ounce growlers. Beer to go is available at Waipahu and University locations and not at Pearlridge. You can also order beer to go online.
1010 University Ave. • Manoa • 888-0913 • 94-515 Ukee St. • Waipio • 517-3128
See also: Beer Lab has opened in Waipio
Brew'd Craft Pub
Selling growlers and takeout food. Bring your own growler.
3441 Waialae Ave. • Kaimuki • 732-2337
Grace in Growlers
Closed; still deciding whether to do takeout sales.
See also: Grace in Growlers just expanded to buy a house for the homeless
Growler USA
Open for pickup, delivery and growler fills.
449 Kapahulu Ave. • Kapahulu • 600-5869
See also: Growler USA in Hawaii
Hana Koa Brewing Co.
Beer to-go in 32-oz. cans and 40-oz. growlers. Food available for takeout as well.
962 Kawaiahao St. • Kakaako • 591-2337
See also: Hana Koa Brewing busts onto Kakaako's beer scene
Honolulu Beerworks
Brewpub is closed until further notice, but Honolulu Beerworks beers are available in cans at local retailers. Online ordering also available.
328 Cooke St. • Kakaako • 589-2337
See also: Honolulu Beerworks has a gateway IPA with a twist
Kona Brewing Co.
Closed until March 30, 2020.
Lanikai Brewing Co.
Open until March 20, 2020; after that will be selling beer to go. Company is matching all credit and debit card tips to deposit in a relief fund for employees.
167 Hamakua Dr. • Kailua
Maui Brewing Co.
Closed; looking into takeout options for food and beer.
REAL gastropub / Bent Tail Brewing
Bring in your own 32 or 64-oz. growlers for beer to go. Limited food menu available for takeout.
506 Keawe St. • Kakaako • 200-2739
See also: Welcome back, REAL gastropub
Stewbum and Stonewall
Closed
Village Bottle Shop & Tasting Room
The tasting room is closed, but the bottle shop is open. Cans, bottles and six-packs are available to go.
675 Auahi St. • Kakaako • 369-0688
See also: Kakaako has a Village Bottle Shop & Tasting Room
Waikiki Brewing Co.
Beer to go available in six-packs or you can buy one of Waikiki Brewing's 64-ounce growlers.
1945 Kalakaua Ave. • Waikiki • 946-6590