Hello, Sheldon!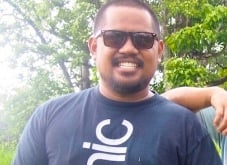 It's official: Sheldon Simeon, Top Chef season 10 finalist, is unleashing his bold, contemporary Filipino flavors in Honolulu for the first time at a four-night collaboration at Vintage Cave.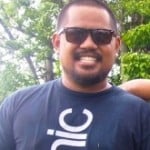 If you watched Top Chef, you know Simeon (and why I couldn't help writing him this letter the night he was eliminated). If you didn't, let me tell you something about him: He worked his way up from dishwasher at places like Pizza Hut and Disney World to take over the kitchen at Star Noodle, one of Maui's hottest restaurants. He's earned two James Beard nominations, won Food & Wine magazine's Best New Chef People's Choice award and is a 2012 StarChefs.com Rising Star. On Top Chef he not only cooked his way into the final three with his heartfelt Filipino-inspired dishes, he got head judge Tom Colicchio to say that maybe the reason Filipino food hasn't caught on in America is because we've been waiting for someone like Simeon to bring it to us.
And Simeon's only 30. He's on an upward creative arc. He left Star Noodle a few weeks ago, so this is it if you want to taste his full panoply — but it's not just that. He's going Filipino for this one. I just got off the phone with him. A day after I got word he was coming, I started hyperventilating (things have been busy). Within an hour I'd put together a table and called Vintage Cave to book (they haven't announced it officially yet; they will in the paper on Friday). And then I called Simeon.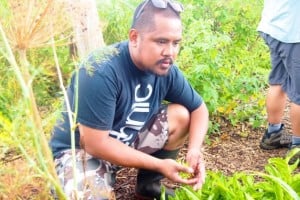 No pressure, I said, but THIS IS IT. Filipino food is the one local cuisine that hasn't made the mainstream crossover, and now you're coming! What are you planning?
"I was just sitting here trying to put together my menu, but I gotta leave it open," Simeon said. "It'll be heavily Filipino-influenced."
The sinigang? I said. Your grandfather's sinigang, the one that woke up the Top Chef judges? Sinigang?
"You'll see some Filipino vegetables you normally wouldn't see. There'll definitely be flavors of fish sauce and tomatoes, and there's gonna be sour notes," he promised.
Aurite!
"I'm only gonna have one day to prep, so I gotta talk to Chris (Kajioka, chef at Vintage Cave) and see what's gonna be available. I gotta see what Chris has in mind. I'm excited. I want to do right by Chris and Charly (Yoshida, Vintage Cave's general manager) and the Cave and all they've done for me."
Simeon's cooked in this kitchen before — he staged there during Top Chef and showed up for the collaboration dinner with Gaku chef Manabu Kikuchi, asking if they needed any help. This time it's totally him and Kajioka. The price is $245 for 10 courses, with seatings at 5:30 and 7:30 p.m. June 19 to 22. You do not need to be a member to book.
Sheldon Simeon collaboration dinner at Vintage Cave
(808) 441-1744