Hello Kitty Cafe Truck comes to town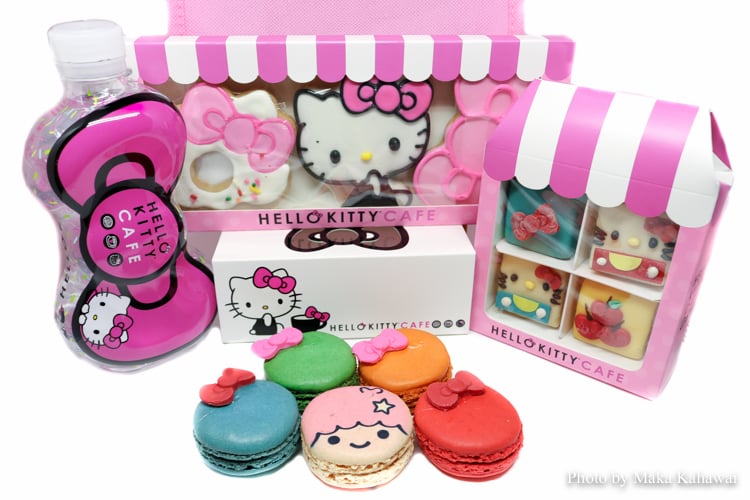 If you've been lucky enough to travel through Taiwan, Korea, Thailand or Australia, you may have stumbled across a Hello Kitty Cafe or two. Here in the U.S. we have a food truck and for the next three days, it's making a stop in Hawaii during its cross-country travel to share some super kawaii (cute) edibles and merch.
Since Hello Kitty's creation in 1974, this well-known and much loved Sanrio character has appeared all over the world, sporting different outfits and props that match the region. Hawaii's Hello Kitty is tan and can be found in hula outfits, aloha dresses and even jamming on the ukulele. Similarly, the Hello Kitty Cafe Truck has its own special line of food and merchandise to match their cafe concept, and they'll be selling it this weekend only.
Each of the baked goods are brightly decorated in true Hello Kitty fashion. In each box of macarons, you'll find passion fruit, pistachio, chocolate and strawberry macarons adorned with Hello Kitty bows as well as a vanilla macaron decorated as a Sanrio character. The hand-decorated cookies are shaped and iced to look like Hello Kitty herself, her bow, and a donut-style Hello Kitty head. If you peak in the petit cake box, you'll find two square Hello Kitty cakes, one topped with a bow, and the last with three apples (supposedly how much she weighs) filled with lemon, raspberry, strawberry or chocolate between thin layers of cake.
You'll still have to stand in line to buy the merch they're selling from the window. The Hello Kitty Cafe Truck is the only place you'll find the Hello Kitty Cafe coffee mugs ($13), Hello Kitty Cafe t-shirts ($25) and pink bow headbands ($30).
Patrons lined up before they opened to make sure they'd be served first, but folks like myself who arrived at 10 a.m., the scheduled opening time, waited just over an hour to be served. The Hello Kitty Cafe Truck will be parked outside of the Ala Moana Center's Sanrio store below Longs Drugs on the street level until 9 p.m. on Sunday, June 19 or while supplies last.
Sanrio Ala Moana
1450 Ala Moana Blvd, Ste 1034 (street level, below Longs Drugs)
June 17-19, 10 a.m. – 9 p.m.