Hello, from Martha Cheng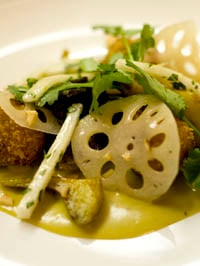 Hello, world. I've been contributing to Biting Commentary since August, but this is my first post as HONOLULU Magazine's new food and culture editor. I'll be taking over the column from here on out, though John Heckathorn and some HONOLULU staffers will sprinkle their insights and comments here and there. Also, be sure to watch the magazine and honolulumagazine.com for John's monthly dining reviews.
A bit on my background with food: my first food feature for HONOLULU was The "Boys are Back in Town," and some of my favorites have been "Poke, Past and Present," and Chef Tattoos.
For the past few years, I've lived the business and written about it; in Honolulu, I've worked as a line cook at Alan Wong's Pineapple Room, co-owned the grilled cheese truck Melt, and started The Pig and the Lady, bringing the pop-up restaurant trend and hype to Oahu. These experiences have made for a crazy, fun lesson in food and restaurants, not that I expect the learning (and craziness) to stop as I transition from the kitchen to the computer full-time. I look forward to sharing finds, from bubble puffs to vegetarian to 24-hour all-you-can-eat yakiniku . I love farmers' markets and quotidian eating pleasures, like cold, cold watermelon and grilled corn, but also a smoky mescal cocktail in a swanky lounge and a long, theatrical omakase dinner. Expect to read all that here!
Also, I'd love to hear from you, too, with your own recommendations, loves and dislikes. Post your comments here, or email me at marthac@honolulumagazine.com.