Healing touches at Laka Spa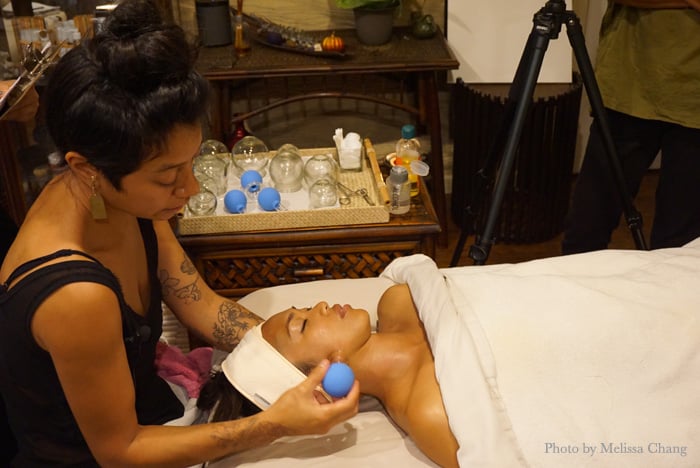 You've probably seen the photos, but have you ever had "cupping" as part of your massage at a spa? I was always scared to try it, but Laka Spa owner Akiko Chun was telling me about the benefits of this ancient home remedy recently, and how her therapist Amy Hastanan would be leading classes for anyone who wanted to learn it.
I'll cut to the chase before explaining it to you: Laka Spa's cupping class is three hours long and is open to the public, as well as massage therapists, estheticians, and physical therapists with no prerequisite. It's $250 per person — of which a portion is donated to the Domestic Violence Action Center — and includes a set of fire cups so you can go home and start practicing.
So why would anyone care about learning or experiencing cupping? Amy did a session on me to demonstrate, and put my fears to rest. Cupping is considered to be one of the oldest forms of natural healing therapies, possibly being practiced as early as 3,000 B.C. The practice and tools have evolved over time, but this fire cupping method is popular. During a cupping procedure, a flash flame is used to suck out all the oxygen and create a vacuum; the heated cups are applied to strategic spots, creating suction and a stimulating effect.
Since there will be a few cups on your back at the same time, some may remain stationery while the therapist slides one across the back and shoulder muscles. This draws blood to the surface of the skin to reduce stagnant blood and mobilize blood flow. It is especially helpful in treating muscle pain or arthritis pains, colds and lung ailments. It can also help treat hypertension, indigestion, back pain and other health issues. And, when it's performed multiple times over several weeks, cupping can be used to break up scar tissue, reduce puffiness and dark circles under the eyes, relieve sinuses … even migraines.
Amy started by sliding two cups around one side of my back, then left them stationary while she massaged the other side. Because the cupped side was stimulated, it felt like both sides of my back were being massaged! It was kind of trippy.
When the cupping jar draws up the underlying tissue, blood will form and the cupped area will appear bruised. It is thought that the darker the area, the more stagnant the blood is in that area and the more toxins are released. It's not painful, and the results are similar to an acupuncture treatment.
Amy also did some cupping on my face, but didn't use the fire cups. Instead, she used suction cups, which provide lighter pressure and — of course — don't leave marks. This gets circulation in your face going, for better complexion.
At the end of my session, I felt a lot looser and a bit energized; it felt like the skin or muscles on my back were still moving (in a good way). Best of all, it didn't hurt, so I'd be willing to add this to my next massage. If you want to add it on to a massage, it's an extra $25.
If you want to learn how to do it, Laka Spa is having its next class on July 20 at 2:30 p.m. and it's limited to eight people. You'll learn the history and definition of cupping, clinical strategies and techniques; you'll also get hands-on practice to ensure you can do it after you leave. You can call them at 808-397-5252 for registration and information.
And don't forget, a portion of the tuition is donated to the Domestic Violence Action Center, a cause near and dear to my heart.
While I'm on the subject of alternative healing, I should tell you about a new service they're offering that I tried recently, as well. Harp healing is a new-ish therapy session that harmonizes your chakras more quickly and efficiently than other methods, and is supposed to release tension, decrease anxiety, promote relaxation, alleviate pain, and encourage the body to heal itself. My friends were skeptical. I was skeptical. But I really enjoyed it.
During a harp session, you go through a series of sound/breathing exercises with Misao. Then she has you lie down, places a custom-made healing harp on your body, and then strums it, moving to different chakra points. Again, very trippy! By the end, you can feel pretty intense vibrations traveling through your bloodstream like waves.
They told me it would relax me, which I thought meant "sleepy," but instead I was energetic and alert for hours afterward, like when you have a smoothie with both ginseng and bee pollen. I guess that's what I needed since I'm always tired!
I would do this again, too, but note that it's not an everyday treatment since you have to be sure Misao can make the appointment. Peace out!
Laka Spa
320 Ward Ave., #200
808-397-5252