Hawai'i's Gold: The Sacredness of Mangoes
Summer means protecting mangoes from sunburn, police reports … and fruits-giving in Hawai'i.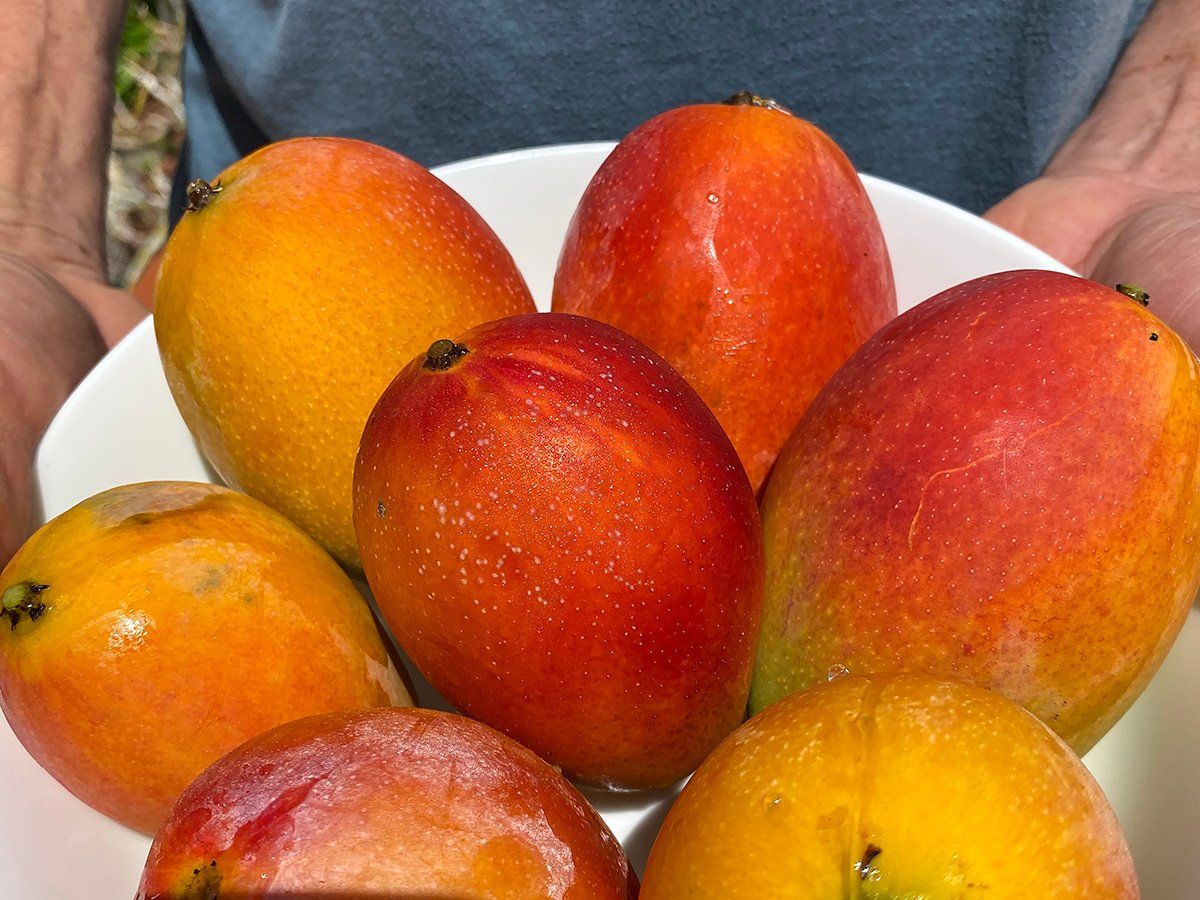 Photos: Leigh Johnston
In Hawai'i, it can be easy to forget the seasons. Summer blends into autumn, which blends into winter, and people continue to wear shorts and slippers year-round. But there is one thing that always reminds me that spring has passed: the long-awaited summer fruit harvest.
Shawn Bolan has been a resident of Kaimukī his entire life. His grandmother and great grandmother, both schoolteachers, were part of elaborate fruit-giving networks, and all summer long he would come home to piles of mangoes on his doorstep. In his yard, Bolan has over 10 species of fruit trees—his most prized is his Excel mango tree.
---
SEE ALSO: 50 Shades of Yellow: This Man Runs a Banana Library on a Farm in Waialua
---
Planted decades ago, Bolan takes care of it meticulously, fertilizing it with chicken manure and compost, pruning, and picking up its leaves year-round. During mango season, he checks the tree first thing in the morning, and then two more times throughout the day. He protects every mango on the tree by snapping plastic clamshell takeout containers around them to guard against critters and birds. His most recent addition: a piece of tin foil taped to each mango to prevent sunburn.
Bolan is quick to admit that he is careful about who he gives his treasured mangoes to. "You have to be Excel worthy," he says. "We have haole friends who don't know the difference, and are thrilled when we give them a Haden." He also confesses to occasionally giving his Excels strategically. When his oldest son moved to Waiʻanae, he made sure to give each of his son's new neighbors Excels to make a good impression. Last month, he needed some work done on his car—and spent weeks on his mechanic's waiting list. Tired of waiting, he decided to play the mango card: He only had to casually mention that he had picked some fresh mangoes that morning, and the mechanic arrived in hours.
---
SEE ALSO: Everything You Need to Know About Local Fruit in Hawai'i 
---
Shawn Bolan
As someone who did not grow up in Hawai'i, it took me a little while to appreciate the sacredness of people's yearly harvests. During high school, I moved to Hawai'i from the Mainland. As a new kid trying to make friends, I signed up to help my class make mango chutney for a fundraiser and volunteered the huge mango tree from the house my family rented. After all, the landlord had said tenants could have the mangoes on the property (I later learned that he specified that tenants could take half). Parent volunteers showed up, picking every last giant green Haden mango from the tree. They placed them in bags and loaded them onto trucks, and the next day I learned that my landlord had filed a police report against me for stealing mangoes. At the time, I was mortified and incredulous—it was just fruit, and going to a good cause! Why was our landlord overreacting to the point of getting police involved? Now, I cringe. I was so oblivious, it was not just fruit! Here in Hawai'i, mangoes are sacred; mangoes are gold.
Bolan spends hours each week driving around O'ahu delivering fruit to elderly friends, similar to the mango network from his childhood. I watched as he carefully packed paper bags with apple bananas, Excel mangoes, and freshly baked sourdough. "Maybe my grandmother's friends who dropped off fruit in my childhood impacted me more than I realized, connecting me to that spirit of kindness and warmth," he says. "I want to carry that tradition forward."
Not a mechanic or don't have a friend with a mango tree? You can still get local mangoes in varieties such as Kona King and Haden (but hurry) from farmers markets, Sun Chong Grocery, Kōkua Market and Whole Foods.