Hawaiian Airlines launches featured chef series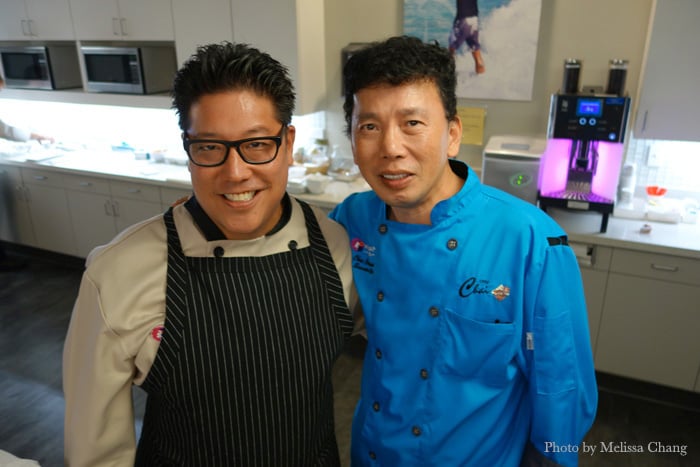 Hawaiian Airlines kicked off its new featured chef program yesterday, where inflight meals created by five of Hawaii's top culinary talents will be on domestic first class flights. Japengo's Jon Matsubara is the first in this series, and all guest chefs will be featured on flights from Hawaii to the mainland. Executive chef Chai Chaowasaree will continue to provide first class meals for flights flying to Hawaii from the mainland.
Jon's dishes will be available through November 30. The other chefs — each featured on a six month rotation — include, in order: Lee Anne Wong, Koko Head Cafe; Wade Ueoka, MW Restaurant; Andrew Le, The Pig & The Lady; and Sheldon Simeon, Mala Wailea and Migrant.
"It's great to be able to showcase Hawaii chefs and see what they can do to make airline meals more exciting," Chai said, laughing, "Plus, it's good for me, too! I've already done eggs 22 different ways, done chicken 38 different ways."
"We try to use local ingredients in the airline meals," Chai added. "Hawaiian Airlines is very dedicated to the need to support our local businesses. Even the wine we use for cooking is from Maui, and $15 a bottle. Who does that? But that's how much we believe in supporting local."
Hawaiian Airlines is the only U.S. domestic carrier offering complimentary meals to guests.
Here's a little video with Jon describing his dishes, and Chai describing his.
I got to do an exclusive interview with Jon for the Hawaiian Airlines website to see what inspired him to become a chef. Did you know cooking wasn't his first choice? "When I was five, my teacher asked me what I wanted to be when I grew up, in class. I came home and asked my (samurai father) who his boss was. He replied, 'I am the boss. I have my own law firm.' I asked him again, 'Who can tell you what to do?' He said, 'Only a judge in court can tell your dad what to do.' So I wanted to be a judge."
Click here to read the interview! And be watching for more every six months.