Hawaii Xplorers summit Mauna Loa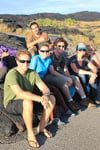 Web exclusive
Aug. 29, 2013
PhotoS: Courtesy Hawaii Xplorers

On Aug. 18, a group of eight from the U.H. Ethnobiology Society's Hawaii Xplorers Program successfully hiked a 13,680 feet to the peak of Mauna Loa, considered the largest mountain (in circumference) on the planet.
Expedition leader Coral Bielecki said, "It's to inspire others to explore the natural world responsibly and with curious gratitude for the greatness of what surrounds us. Tactile experience in an extreme environment teaches the self things beyond words in a book or experiments in a lab."
When planning, the group knew extreme conditions were ahead and that's exactly what Mauna Loa provided. The journey took six full days, and not only were the students trudging up extreme altitudes, they were doing so in an active volcano region that projects noxious fumes on a daily basis.
"The hardest part for me was definitely the second day," says Hawaii Xplorer Tamara Luthy. "The altitude and steep incline was hard on a lot of us. That day we ascended more than 3,000 feet in elevation and travelled 9 miles to the Summit Cabin. If you know about Koko Head, we calculated that that day was the equivalent of doing eight Koko Heads with a full pack."
Known as the "darkened land," Ainapo's ominous identification always raises questions concerning weather. The Xplorers had to be prepared for downpours and extreme wind.
"This time of year, we were mostly concerned with rain soaking through otherwise decent rain gear," adds Garrard. "We made sure to have fully sealed seams, adjustable hoods and openings on our rain jackets and pants. Another critical piece of gear was our sleeping bag and keeping it dry with an ultralite dry bag or garbage bag inside of our backpacking packs."
Keeping gear and socks dry was obviously a priority, but of greater concern was the danger of hiking at altitudes the group did, especially at the daily pace they were tracking. Mauna Loa doesn't have "death zone" type elevations like that of Everest or K2, but oxygen levels do become greatly depleted above 10,000 feet. With oxygen levels dropping by 40 percent above that height, each incremental step can severely affect a person's body and mind, leaving them ill or greatly impaired. Symptoms of altitude sickness include dizziness, chest pains, shortness of breath, coughing of blood and nausea.
"The most difficult part of the journey was definitely summit day. We had ascended very quickly, leaving little opportunity to acclimatize to the high altitudes properly. I slept little the night before, because my body was struggling to adapt," says team member Shawn Garrard. "In the morning, our expedition doctor checked all of us and I had a very rapid resting heart rate. I felt terrible, and I didn't really feel like I was going to be able to summit. After I had hiked for about an hour, I felt much better and decided to continue with the group."
As challenging of a task as summiting Mauna Loa by way of the Ainapo trail is for technology-equipped students, it is likely ancient Hawaiians made the same journey during volcano eruptions to leave offerings and prayers to honor madam Pele, goddess of fire.
As far as hydration and rationing was concerned, the majority of the team survived on water and dehydrated, prepared meals. Travis Young, a Native Hawaiian student, went a more traditional route, though, packing poi, dried fish and Hawaiian healing herbs. He did share fresh olena (turmeric) tea for the whole group to enjoy.
The EBS's Hawaii Xplorers embark on yearly expeditions, and each member collects individual data and thoughts for further studies in their respective majors and study fields. An accomplishment of this magnitude gave each member a tremendous belief in self-reliance and determination, testing their wills and strengths past anything they had encountered prior.
"I love every single person on our team, and the chance to spend a week with them on this kind of expedition was not one to be passed up. They are all crazy botanists who are passionately in love with hiking and nature and adventure, just like me," says EBS and Hawaii Xplorer member Tamara Luthy.
It should also be noted no member was injured or fell ill throughout the expedition and Dr. Levine of UH John A Burns School of Medicine did accompany the group monitoring health conditions daily.