Hawaii Tops Yelp's 100 Places to Eat List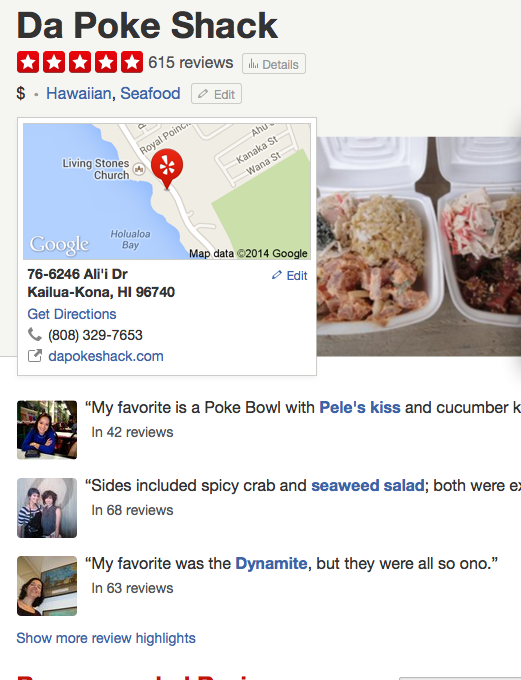 For the first time ever, Yelp released its list of top 100 places to eat, based (in part) on the most highly rated places and the number of reviews they received.
The reason I'm bringing this up? A Hawaii place tops the list, and Hawaii is second only to California in the number of highest-rated restaurants. Adjust for population, and Hawaii has the most restaurants per capita on the list, five times that of California.
And get this: the No. 1, top rated restaurant on Yelp is the hole-in-the-wall Da Poke Shack on the Big Island. It's probably not so surprising that Yelp skews towards the smaller, hidden eateries, given its young user base looking for discoveries. And when it comes to unexpected, fabulous hole-in-the-walls, Hawaii is a treasure trove.
The list isn't all small, budget places, though. Alinea in Chicago and Gary Danko in San Francisco are also in the top 10. And, in Hawaii, Sushi Izakaya Gaku, one of most of expensive izakayas in Honolulu, is number 11. (And in my mind, deserving of its high placement.)
Here are the Hawaii eateries on the list, with their rank. (The list also makes an interesting juxtaposition to last week's James Beard Hawaii semifinalists.)
– Da Poke Shack, Kailua-Kona, HI (1)
– Sushi Izakaya Gaku, Honolulu, HI (11)
– Ono Seafood, Honolulu, HI (18)
– Opal Thai Food, Haleiwa, HI (39)
– Marukame Udon, Honolulu, HI (41)
– Geste Shrimp Truck, Kahului, HI (50)
– Ono Tacos, Lahaina, HI (73)
– Dat Cajun Guy, Haleiwa, HI (77)
– Pono Market, Kapaa, HI (82)
– Sushi Sasabune, Honolulu, HI (95)