9 Hawai'i-Inspired Gift Ideas for Under 25 Dollars
If you're looking for inexpensive yet creative holiday gifts for teachers, coaches or service providers, we've got you covered.
It's the season of giving and even if you're on a budget, it's a wonderful time to show appreciation to those who give us so much throughout the year.
With that in mind, we searched for gifts that checked some of these boxes: locally sourced, unique, inexpensive and thoughtful. Bonus points for items from companies that give back to our community.
1. Local Honey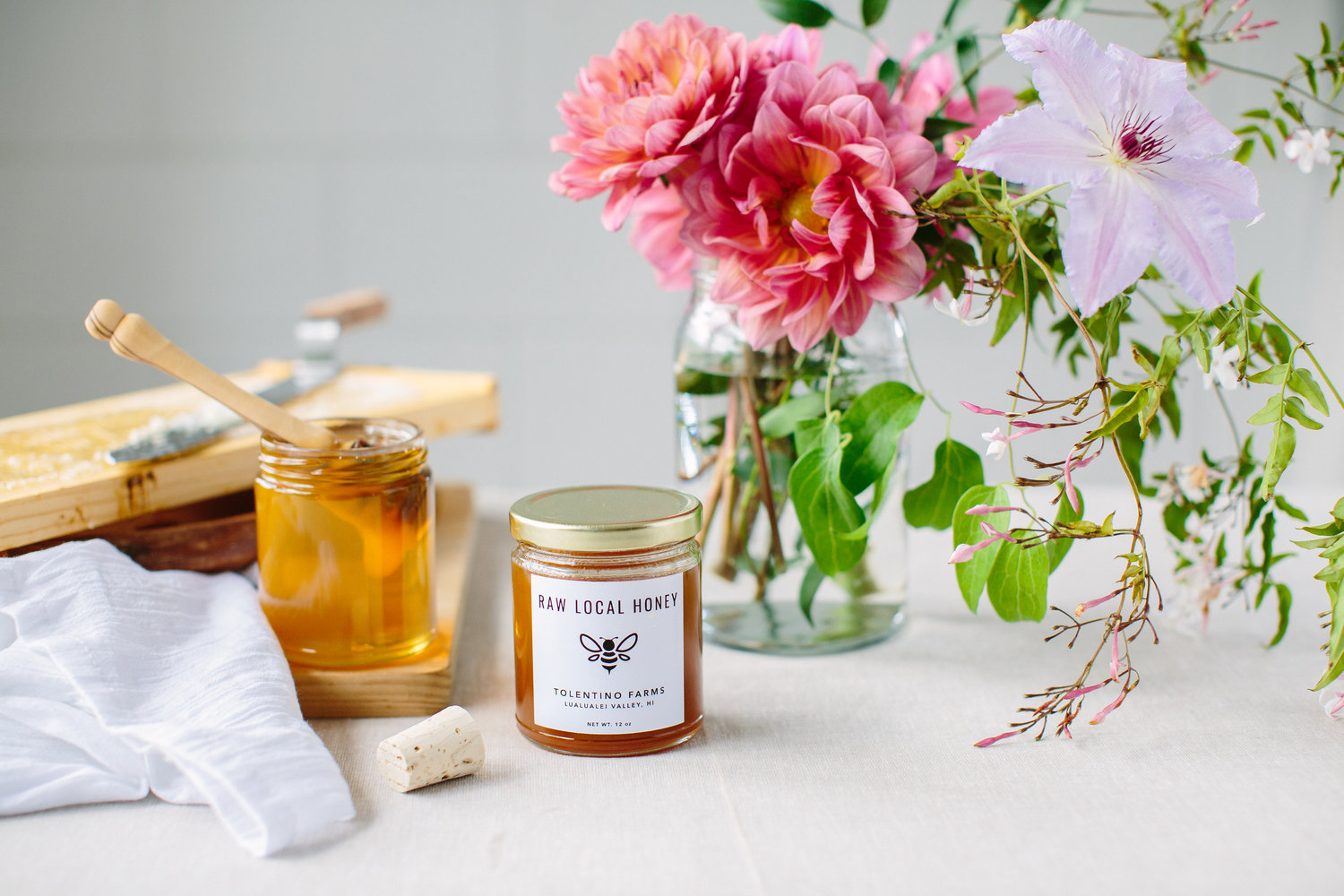 Photo: Courtesy of Tolentino Farms
Giving the gift of honey from local beekeepers supports and sustains hives needed to pollinate local crops, in addition to supporting our economy here at home. Tolentino Farms raw local honey comes in pretty packaging and is available in select shops and farmers' markets across O'ahu. A jar of the sweet nectar ranges in price from $5 for a 2.5 oz. mini jar to $18 for a large 16 oz. jar.
2. Hero Keychains and Wallets
Handcrafted in Hawai'i by Hippy Chic Designs from repurposed, decommissioned fire hose, these HERO keychains and wallets are durable and sustainable. Natural variations of the fire hose make each item unique. Best of all, a portion of every purchase is donated to charities that support local firefighters and fire survivors.
Available in regular and long, the keychains are priced at $17 and the wallet and keychain set are $34. They come in a range of colors to suit all tastes. Shown here are the "America" keychains. A thoughtful gift for anyone your child looks up to as their hero.
3. Succulents and Terrascapes
Launched by a retired elementary school counselor and a graphic designer in Aiea, Momo Terrascapes' passion for plants is in full bloom in their beautiful, living art pieces. Holiday pop-ups are coming soon, so if you can't make it to their Aiea location, subscribe on their website for updates on locations near you.
If you're on a really tight budget, a visit to their shop or to your local nursery will let you scale this green gift to your needs. A lovingly handmade version for your kids' teacher or coach will last all year.
4. Jerky Labs
Don't know what to buy for your kids' coach or your mailman? Kaneohe-based Jerky Labs has reinvented an old favorite by making crispy beef jerky in flavors like Korean BBQ , Char Siu, Maple Sriracha and Kim Chee. Starting at just $11 and available online or at Lokahi Market Kailua.
5. Custom Cupcakes
If you're brainstorming ways to spread a little joy at your office, the teachers' room, or at your kids' next soccer game, beautiful cupcakes might be the answer. Head to your favorite local bakery or choose from a variety of homemade local treats for sale on Facebook or Instagram, where enterprising local bakers sell their beautifully crafted treats. Locally made Sarah's Sweets sells cupcakes frosted with buttercream flowers for every occasion, available by special order on Instagram.
6. Workshop 28
From totes to trucker hats to tree ornaments, local company Workshop 28 creates products "that inspire kindness and aloha" using their signature logos and local plant-inspired motifs. We especially love their monstera earrings and carved bamboo cutting boards. Best of all, they have a gifts under $20 section on their website. Order online or at retailers islandwide.
7. Jules + Gem Hawai'i
Made in small batches and hand poured, Jules + Gem's soy candles come in familiar scents like guava nectar, gardenia and pineapple cake, and are priced from just $16.  Best of all, they're made without phthalates using natural oils. Find them, along with their bath and body products, room sprays and more at their shop in Kaimuki, at select stores and online.
8. Micro Mahalo
Stephanie Reis started Micro Mahalo in October as a unique way to repurpose microplastics collected from O'ahu beaches. Using silicone molds, she turns otherwise useless plastic bits into handmade letters. Her colorful refrigerator magnets can also be used on display shelves or on your desk. She accepts custom orders for words, names or sayings.
Most appealing of all, she donates 15% of the proceeds from each sale to local beach and ocean conservation groups. Letters are priced at $4.75 each. To order online visit micromahalo.com or visit the monthly Aloha Home Market in Kailua (incidentally, a great place to find more locally-made gifts!).
9. Jamba Juice
With close to 20 locations across O'ahu, Jamba Juice gifts cards make a practical and popular gift. Purchase traditional cards or send e-gift cards straight to someone's inbox with just a few clicks. Best of all, you get to choose the dollar amount starting at as little as $5, and increasing in $5 increments.