Hawaii: In Real Life~building a gingerbread house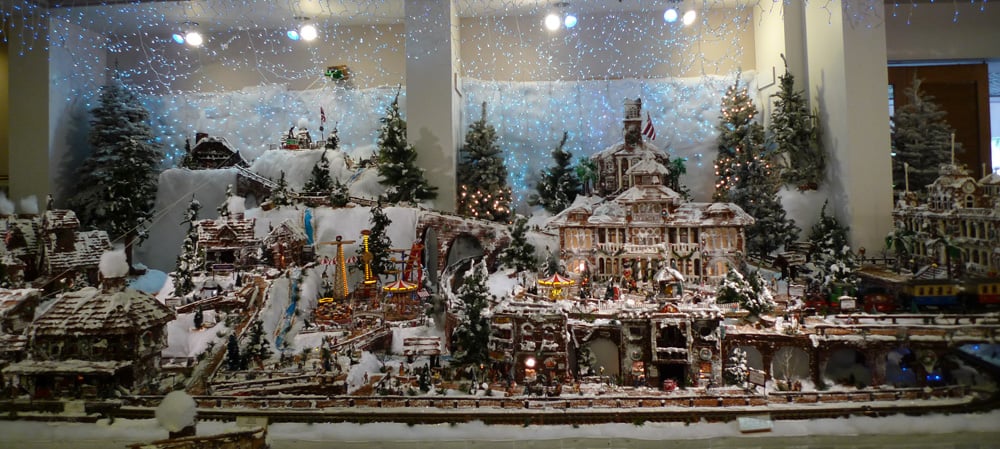 Have you seen the incredible gingerbread village at the Sheraton Princess Kaiulani? It's on display now in their lobby – and the best part is, it's free to the public. The elaborate, edible display stands about 14.5 feet high and 24 feet wide, complete with houses, medieval churches, bell towers, train stations, a carousel and a skating rink. Even more amazing, the village is rigged with electricity, so there are two trains running around the perimeter, a moving ski lift, a miniature carnival, and more. If I were a kid, I could probably spend hours in front of this display.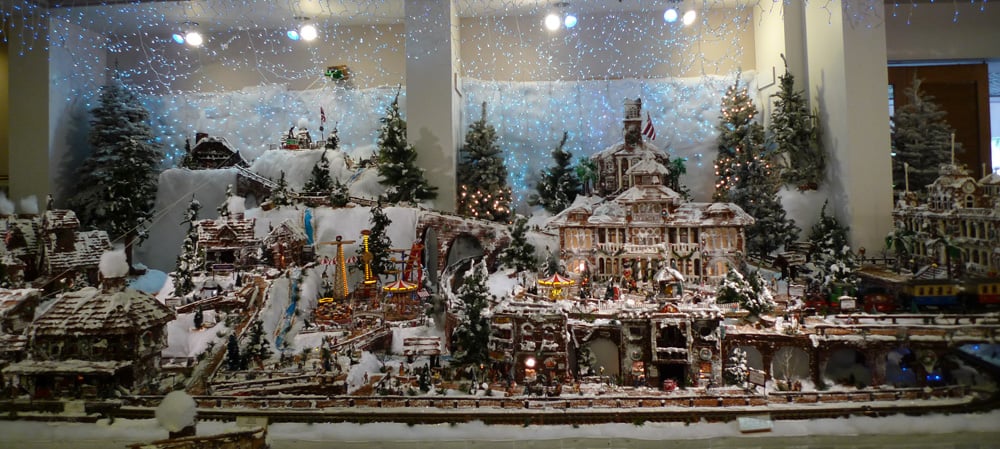 It takes months for Bauer, his pastry chef Amie Tungpalan and the hotel's engineering department to design and construct this amazing village. It takes about 200 gallons of icing, 100 pounds of dark chocolate, 30 pounds of white chocolate, and 60 sheets of gingerbread. This is doubly unique because one side is reminiscent of Bauer's native Germany, while the other side features a touch of old Hawaii with iconic structures including the Kawaiha'o mission church and the Moana Surfrider. This year, Bauer has added a magnificent Iolani Palace, which took over six weeks to build and includes all 88 columns.
Nonstop photographer Ed Morita also took some photos at the display; you can check out his blog here. If you want to see the rest of the episode on Hawaii: In Real Life, click here. Otherwise, check out this gingerbread village through January 3 to see it for yourself!
========
You can read all of Melissa's blogs at www.nonstophonolulu.com/urbanmixplate. Follow Melissa on Twitter@Melissa808, on Foursquare as Melissa808, or email at Melissa@nonstophonolulu.com.
My recent blog posts:
Tweets from the road: Marathon 2010
What's up with the knee high socks?
I want a Bit of Sugar!
Terry's Place and the Underground Chefs
What's your passion?
Hawaii: In Real Life at Padovani's Chocolates
Black Friday aftermath
Happy Thanksgiving
Introducing Hawaii: In Real Life
Visiting the Waialua cacao farm
It's super sake week!
Breakfast at Eggs n' Things
Stewing for a good cause
Sushi Surfer Sliders and more