Hawaii: In Real Life ~ Wing Lam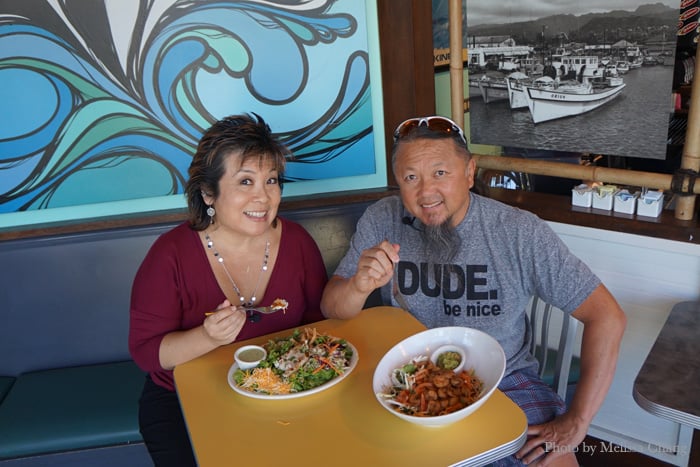 Many of us in Hawaii know about Wahoo's Fish Tacos on Ward Avenue and … not much else about it, right? If you're like me, you've probably eaten there and thought it was a local Asian-fusion take on Mexican fare. Well, Wing Lam, the founder of Wahoo's was here in Hawaii recently, and taught me more about the business (and doing business) than I knew before.
Let's start with five things you didn't know about Wahoo's:
Wahoo's fusion roots are Brazilian. When Wing and his brothers founded the taco spot, they added Brazilian flair to their California cuisine. They knew people were familiar with tacos, but they added touches — like a vegetarian version of Brazil's national dish, feijoada — to make their creations different from anything that was out there back in 1988.

…Because the Lam familia is originally from Brazil. I know Chinese people are everywhere, but when I went to Brazil, I looked high and low and only found the largest Japanese population outside of Japan. If you look hard enough, though, there is a Chinese community, and the Lams were a part of it before moving to California.
There are 65 locations around the U.S. and one in Japan. The world now knows about fusion tacos, but back in 1988, it was a novelty. Once it took off in California, the craze — and their franchise — spread around the country (mostly the West Coast, of course) and catapulted the Lams into the limelight with business and food media.

All the food is made to order. The whole concept is based on the health-conscious surf culture, so the ingredients are fresh and, in most cases, low-carb.

Wahoo's was recently designated an ocean-friendly restaurant by the Surfrider Foundation. This means they make environmentally responsible choices in sourcing sustainable seafood. So eat up, and eat with good conscience.
I got to talk story with Wing, getting to know him, learning about the business, and getting some life advice on being successful:
Want to know more about Wing, Wahoo's, and riding the wave of good business? Visit HawaiiIRL.com to hear more!
Wahoo's Fish Tacos
940 Auahi St.
808-591-1646