Hawaii: In Real Life ~ Will Chen and HI Fresh Box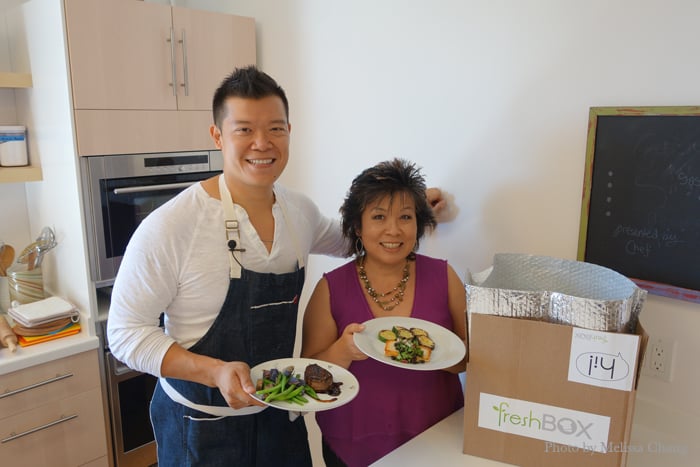 So many of us are busy working not just one, but sometimes two or three jobs. When do we have time to cook a nutritious hot meal that isn't just spam, eggs and rice? Even if we get a Community Supported Agriculture (CSA) box delivered, we still have to figure out what to do with the ingredients.
Chef and fellow blogger Will Chen has a solution: HI Fresh Box, a product/meal delivery service. He portions out the ingredients needed for a well-balanced meal, in creative recipe combinations that many of us would probably never think of.
The inspiration to start this service came from a couple of sources: One was the rise of friends ordering CSA boxes, only to call him to ask what to do with the ingredients. The other was from his Crossfit group, where they were required to stick to a strict diet. The people at Crossfit would share photos of their bland, almost colorless meals, while Will had vibrant, tasty creations that still fit the regimen. The Crossfitters said they would pay him to make their meals.
He left his job as chef de cuisine at The Beachhouse at the Moana to start the new service, and hasn't looked back since. You can order online for yourself or for others, and the HI Fresh Box crew delivers it every Tuesday. Each weekly box contains pre-portioned, vacuum-packed ingredients for three complete meals, each meal feeds two people, and every week is different so you don't get stuck in a routine. The box is just $72, which comes out to $12 per meal per person.
Here's what one dish from this week's meal looks like: broiled fish with black bean salsa and zucchini. Note that there is always one fish, and two "land proteins" (lamb, beef, chicken, etc.) for entrees every week. Below is this week's beef dish.
Will has found that the audience is not limited to busy career people or Crossfitters. He's become popular with retirees, who like the convenience and affordability of the service and the fact that the meals are perfectly portioned for easy cooking and serving.
We went to Cookspace Hawaii to talk story with Will and see what's in this week's box. (I started cracking up at one point because cameraman Russ Sumida and Cookspace owner Jason Kim started laughing in the background. Grr!)
We talked story some more with Will about his new business, and even got a little cooking lesson. Visit HawaiiIRL.com to see more! If you want to order a box or subscribe to HI Fresh Box, click here. You can also get updates via social media at Twitter, Instagram, and Facebook. Mahalo to Cookspace Hawaii for letting us do some cooking!
Here's what I had in my box: fish, beef and pork. I even grilled the pork myself on our gas grill! I would do this all the time if I were not a food blogger eating out almost every night. But the week I tried this, I loved it — and felt like a fancy pants home chef.