Hawaii: In Real Life ~ Wiches Brew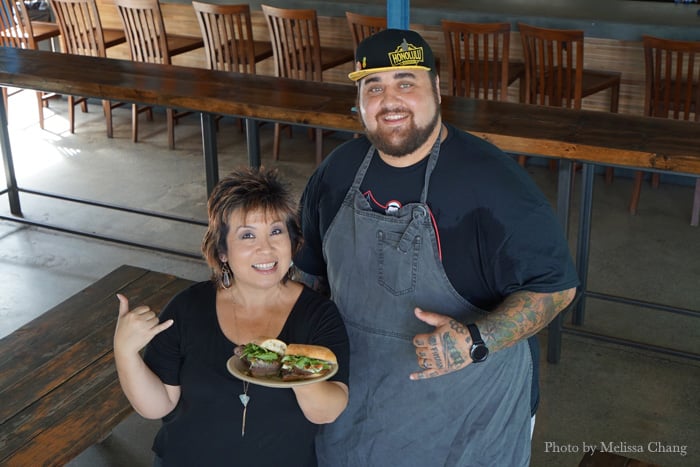 If you've been to Honolulu Beerworks in Kakaako, you know the place serves up a lot of great beer, and a lot of great food. But on September 25, they're adding a little pop up to their mix, featuring their night kitchen manager, Aaron Biolos. He's got a new sandwich concept called Wiches Brew (get it? Sandwiches and beer?) and will be sharing his creativity through these monthly pop ups.
He'll be doing three specialty sandwiches at this first event, all different and all beer-friendly, for $11 each. He also has off-menu sides and desserts for $5. It's not a ticketed event, but he does want you to RSVP to him at wichesbrewhnl@gmail.com so he can plan ahead. He has 50 spots to fill from 5 to 9 p.m., so get your email in, quick!
Aaron's been in San Diego's and Hawaii's cooking scene for a while now, so he knows how to please a hungry crowd. I actually met him at the Pearlridge farmer's market as he was multi-tasking while cooking up breakfast every Saturday.
Here's a look at one of the sandwiches he's making, as we talk story about the upcoming pop up and get to know him better.
I did get to try the sandwich! You can see it in the next segment at HawaiiIRL.com as we talk story with Aaron about Honolulu Beerworks and his cooking. No surprise, the sandwich was delicious, but I was surprised at how easy it was to eat. Even the meat was like buttah.
See you on September 25!
Wiches Brew pop up
Honolulu Beerworks
328 Cooke St.
September 25, 5 to 9 p.m.
RSVP: wichesbrewhnl@gmail.com