Hawaii: In Real Life ~ Ukulele Picnic 2012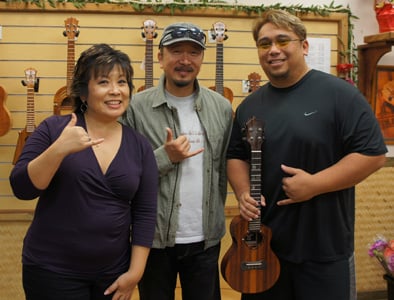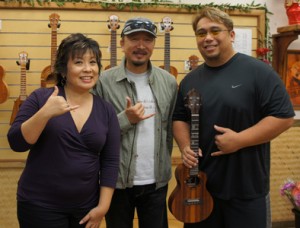 If you enjoy ukulele music, you'll love the upcoming Ukulele Picnic, now in its fourth year. It's an all-day event at Kakaako Waterfront Park featuring about 20 renowned entertainers from Hawaii and Japan, food, activities, and more. Best of all, admission is free.
When I say "renowned," I do mean super famous. Ukulele legend Herb Ohta, Sr., will perform, as well as Herb Ohta, Jr. (no word on whether they'll perform together). Na Hoku Award winners like Mark Yamanaka, Natalie Ai Kamauu, Kuuipo Kumukahi, David Kamakahi, Ken Makuakane, and Kainani Kahaunaele are just a few of the stars in the lineup. And did I mention it's free?
Na Hoku Award winner, Pali Kaaihue (known just as "Pali"), sat with me at Koaloha Ukulele to talk about the upcoming Ukulele Picnic and all of the things you can expect to find at this free day-o-fun. If you can play, enter the ukulele contest by February 5 via YouTube, too. Here are the details:
We also interviewed international ukulele star, Mr. Kazuyuki Sekiguchi, the founder of the Ukulele Picnic, to talk about the history of the event and how it's grown. Check it out — bloopers and all! — on HawaiiIRL.com.
Ukulele Picnic in Hawaii 2012
Sunday, February 12
Kakaako Waterfront Park
9 a.m. until sunset
Admission: Free