Hawaii: In Real Life ~ the Fremont St. Zipline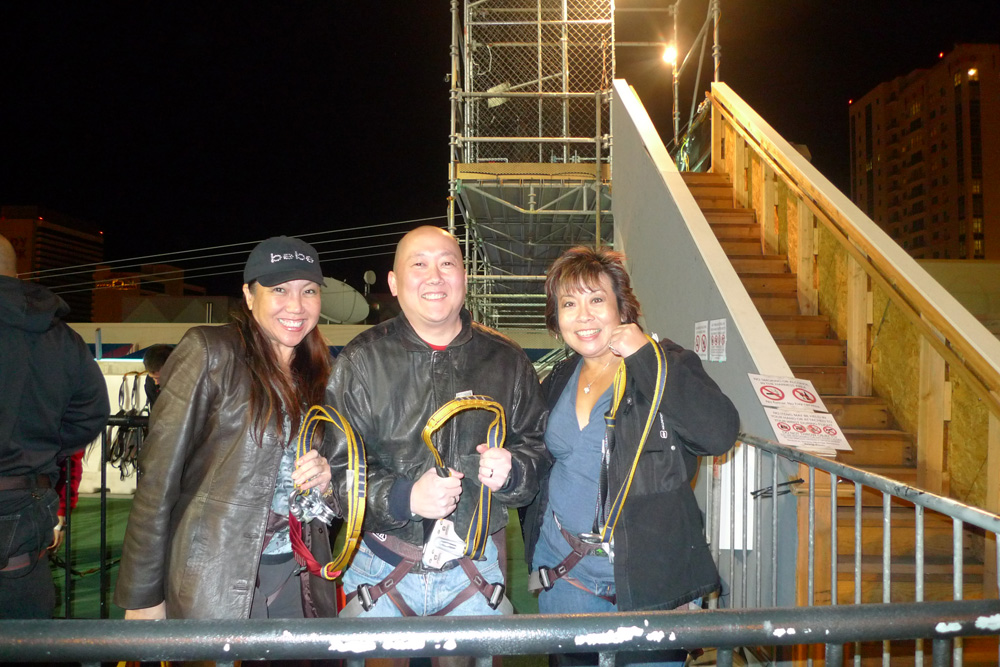 There's more than one way to get your adrenaline pumping while you're in Las Vegas, as we found out at the Fremont Street Experience. I flew through the air with the greatest of ease with Julie Yoneyama and her brother Vern, zipping over crowds on an 800-foot cable into the arched metal canopy.
If you want a different kind of thrill, try the zipline at the Fremont Street Experience, which opened in October. Riders shove off from a 60-foot platform at the east end by Neonopolis and land on a 14-foot platform in front of the Four Queens Hotel. It's actually a temporary set up till January (hey, that's this month!), but if all goes well, the plan is to have a permanent attraction that spans the entire length of the Fremont St. canopy where the light show is done.
They say you can reach speeds up to 30 miles an hour, and while it sounds dangerous, I gotta say: the ride seems pretty fool proof. Unlike real ziplines in which you control your speed with both hands, this one has you strapped in pretty tight and all you do is hold on to the strap that attaches to the cable. Even kids are doing it. Check out the video of my flight, and see for yourself:
The zipline operates from 2 p.m. to 2 a.m. Thursday through Saturday and 2 p.m. to midnight Sunday through Wednesday. Rides are $15 before 6 p.m. and $20 after 6 p.m., but it gets dark so early now that you could go at 4 p.m. and get the nighttime effect.
Oh, yes, and if you follow me on Facebook and Twitter, you know: No cameras are allowed on the ride, not even if you make a request from APR to non-APR. (Just a small reference to my peer there, not that I'm bitter or anything!)
If you want to see more episodes of Hawaii: In Real Life, visit the website here.
Disclaimer: Air & hotel were provided by
Boyd Vacations Hawaii
for an assignment for InsideOut Hawaii.
========
You can read all of Melissa's blogs at www.nonstophonolulu.com/urbanmixplate. Follow Melissa on Twitter @Melissa808, on Foursquare as Melissa808, or email at Melissa@nonstophonolulu.com.
My recent blog posts:
Hawaii: In Real Life ~ Caked Las Vegas
A taste of Hawaii in Vegas
Dinner and dessert at Caesars Palace
New Year's Eve at Serendipity 3 in Las Vegas
Vegas: The day of the food coma
Vegas: Visiting the M Resort
Breakfast of champions: The Cracked Egg in Vegas
Vegas: A fun day on the Strip
Welcome to Vegas, baby
Where I'd tell the Obamas to eat
Hawaii: In Real Life ~ Midori-dori
Vegas lucky charms
Hawaii: In Real Life ~ holiday hot chocolate
Vegas, here I come!
Hawaii: In Real Life~building a gingerbread house
Tweets from the road: Marathon 2010
What's up with the knee high socks?
I want a Bit of Sugar!