Hawaii: In Real Life ~ Sweet Revenge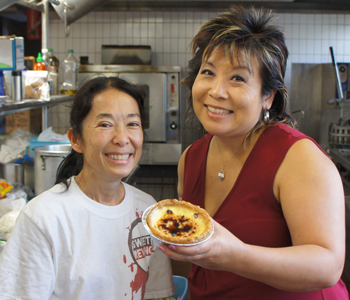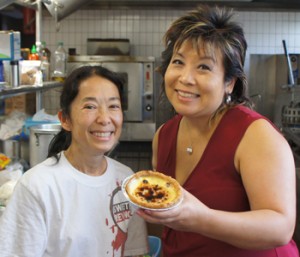 You may have seen the Sweet Revenge (@SweetRevengeHNL) pie truck at Eat the Street every month since last year … or maybe you haven't, if you came too late and found that their amazing sweet or savory pies had sold out. Whether they bring chicken pot pie, quiche, bacon mac 'n' cheese, chocolate haupia, crackerjack, or any of the dozens of handmade fillings they offer, the mini pies are always a hit.
I can count the number of times I've beat the crowd to Sweet Revenge on one hand — usually I have to stand by with a fork, hopeful that one of my friends will share a bite with me. So when Kathy, the owner, summoned me and Mari Taketa to her kitchen to taste one of her experimental new creations, I was all over it. While I was there, I shanghaied her into doing a video with me so that you can meet her and get to know some of the thought behind her lovely little pies.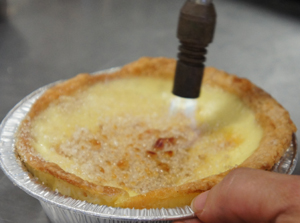 The experiment, by the way, ended up being an appropriate dessert for fall: A pumpkin/custard brulee, in which she torches the sugar crust on the spot to ensure a fresh crunch. It was a popular choice at the last Eat the Street, and Kathy is probably going to make it for the November event. You may also find it at the Thursday night Makiki farmer's market, too.
Here she shows us how she makes her latest pie and talks about other things she makes, including homemade dog biscuits:
We tasted the pies and talked more about Kathy, her business, and why it's super important that you support Sweet Revenge. Visit HawaiiIRL.com to see more. Then go out and buy her pies!