Hawaii: In Real Life ~ Special Olympics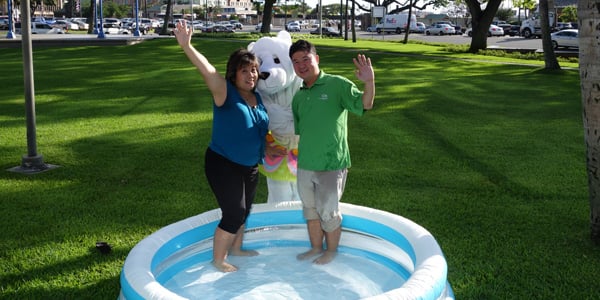 Nonprofits around town always have different fundraisers to help them keep running, but Special Olympics Hawaii probably has the most unusual and fun events that get the entire community involved. You're familiar with Over The Edge — which Myong Choi and I participated in on separate years — where people collect pledges for the opportunity to rappel down the side of the Sheraton. There's also Cop On Top, where police officers stay on the top of a scaffold on WalMart until community pledges help bring them down.
Next week, however, is a popular event called Polar Plunge, and you can still sign up to participate. You just need to collect $100 in pledges, and you get to plunge down a three-story slide outside Restaurant Row into a pool of water that is full of ice. Yes, you get to.
You can do it as an individual or, like our friend Esme Infante, create a team.
What's it all about? Kyle Karioka and Brr the Bear from Special Olympics Hawaii tell us:
Want to know more about Special Olympics Hawaii and the programs they offer? Visit HawaiiIRL.com for more!
Special Olympics Hawaii Polar Plunge
March 29, 10 a.m.
Restaurant Row