Hawaii: In Real Life ~ Sing Cheong Yuan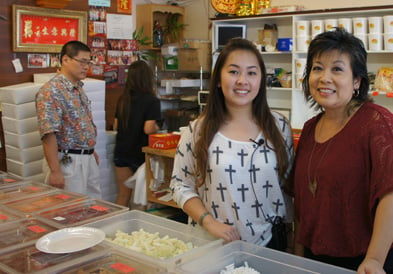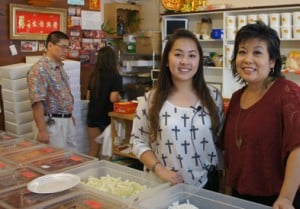 I've posted about Chinese New Year before, but for the first time since I've been blogging, it's my year — the year of the snake. If you want to get technical, it's the year of the black/water snake, in 4710 (versus 2013, for you westerners).
Chinese New Year falls on February 10 this year, and that's right around the corner, so I am going to do a mini-series of Chinesey things in Honolulu to help you prepare for the auspicious occasion. One of the more popular spots in Chinatown for the last 40 years or so has been Sing Cheong Yuan bakery, a one-stop shop for lucky dried fruits, li see candy, New year toong mai (puff rice cakes) and perennial favorites like gin dui, char siu bao, peanut candy, almond cookies and banana roll mochi. And no, I'm not trying to promote just one store; Sing Cheong Yuan really is the only place to go for all of these items at once.)
I've been following Liana Fang on Instagram, since her family has owned the store for the last five years. The family has always been camera-shy, but I figured Liana might be open to talking about some of the good luck symbols that they sell. (If you're wondering, her cute, very Chinese mom is standing behind the camera calling out various details. I felt like I was at home!) I thought I knew it all, but as you will see in this video, I learned some new things, too.
We couldn't fit everything into the first video, so visit HawaiiIRL.com to learn more! Like, why the heck would I keep a gau in my house until it's moldy, and beyond? Also, note that when she says they're "open 24/7," they're actually working around the clock, not selling.
Sing Cheong Yuan Bakery
1027 Maunakea St.
808-531-6688
Facebook: Sing Cheong Yuan
Email: aloha@singcheongyuan.com
Meanwhile, if you're looking for the big celebrations, the big Night in Chinatown is February 2, where Maunakea St. is shut down for the day and filled with food booths, retail booths, entertainment (for which they are still soliciting acts), and a big parade. Choy Cheng is February 1, basically all the lion dance groups from Bethel to River Streets, and you don't have to be Chinese to participate.
The Chinese Cultural Plaza will have celebrations January 25 and 26, February 1 and 2, and a bit on February 8 and 9. No major festivals are planned for Chinese New Year weekend, however since it falls on a Sunday.
Here's an updated gallery from last year so you can use it as your guide during Chinese New Year. Be watching for more in this series so you can learn to be…Chinee like me!
Chinese New Year: a primer
Picture 1 of 20
Most of you will probably head to Sing Cheong Yuan on Maunakea St. to get your Chinese New Year treats, outside of the weekend festivals coming up. Depending on your taste, you will find an array of sweets and savories — some available year round, others only at New Year.