Hawaii: In Real Life ~ shopping at Aloha Gas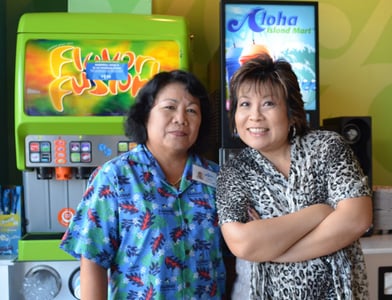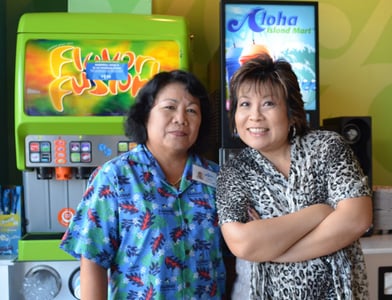 Every Sunday, I pass the Aloha Gas station on the last corner of Kilauea Avenue before running out to Kalanianaole Highway. It's the last spot to get food, cold water, energy drinks, or use the bathroom for the next two miles; conversely, it's the first real relief after making the seemingly endless trek out to East Honolulu.
But wait, there's more to this oasis —it's much more than your usual gas station food mart. The renovated Aloha Island Mart has the first beer cave of its kind in Hawaii, offering about 75 kinds of beer. Beer is the best-selling item at gas stations; why shouldn't they make it easy and fun for customers to access? This is great stuff, whether you're a runner or not. If you are a runner, you know that beer is a big staple (especially for Hashers—on on!), and the thought of ducking into a 30-degree walk-in fridge in the middle of a 20-mile run in Hawaii is pure heaven.
The long marathon training runs are coming up, so I wanted to show my running friends (and you) what the inside of the beer cave looks like. We visited with Aloha Island Mart manager Vicky to talk about the beer cave and what else is so cool about their store.
Did you know that Aloha Island Mart has a huge selection of products, and has regular sales like other grocery stores? How about their crazy soft drink dispenser with unique add-ons? We did an extended interview with Vicky on HawaiiIRL.com, and the shock and awe that I show you on camera is real. I had no idea Aloha Gas had such awesome food marts attached to their stations.
Click here to see the video; if you want to see our still shots, click here.