Hawaii: In Real Life ~ Shaka Moa Eggs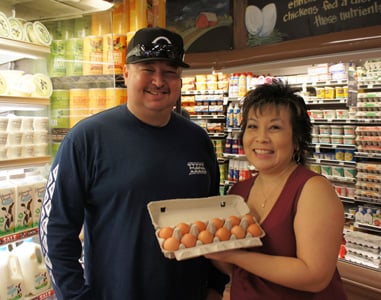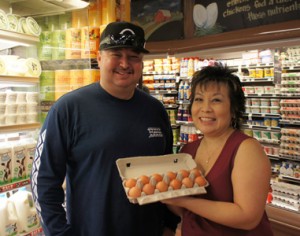 Did you know that local eggs are only about two to three days old when they hit the store shelves? By comparison, did you know that mainland eggs are at least 14 days old?
That's just one of the little known facts about local eggs, one of the many reasons to buy local. Yes, local eggs tend to be a little more expensive, but when you find out what you're actually putting into your body, it's worth the price. (Unless I'm doing a massive baking project, local eggs are the only kind in my fridge.) We met Mark Takaki of Shaka Moa Eggs at Whole Foods Market in Kahala to talk about some of the other reasons local eggs are better, and what makes his eggs different. Watch the video — I think you'll be surprised. We certainly were.
But wait! There's more. Much more. If you want to know more about Shaka Moa Eggs, visit HawaiiIRL.com as we get the scoop from Mark, who's actually a pretty funny guy!
Speaking of Whole Foods…they're getting ready to open their Kailua store. They're having a special preview tour and block party on April 15, but you need to RSVP by this Friday. Click here to see the details and RSVP.
*****
Thanks, everyone for your comments last week! As promised, we randomly picked a name from all the commenters using a randomization formula in Excel. The winner of the Ruth's Chris gift certificate is Kyle Higa (@kyleepuu). Congratulations and thanks for reading!