Hawaii: In Real Life ~ Romano's Macaroni Grill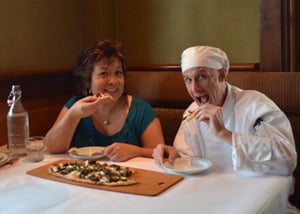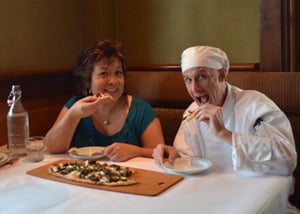 While eating lunch at Romano's Macaroni Grill recently, we noticed that there were some changes on the menu — flatbread pizzas, interesting new bruschettas, and a couple of pupu and entrees. (Best of all, they've been putting truffle oil in dishes.) Emi Chang Espinda, who does the marketing for Romano's, suggested I meet chef Michael Longworth, the man behind the new creations.
Well, it wasn't just a meeting; he decided to put me to work and see how they actually make my new favorite flatbread (yes, the one with the truffle oil). I was impressed to see that everything is made fresh; those mushrooms and onions are sliced by hand daily. Even the dough is made fresh, unlike some restaurants that buy packages of flatbread crackers to save time. Here's how I made my flatbread:
We ran out of time before I could try my creation (which chef Michael wouldn't let me douse in truffle oil!), so click over to HawaiiIRL.com to see how it turned out, plus we'll be chatting with the chef about what else is new, what's coming up, and … who is Mr. Romano?
By the way, we thought we'd run a little contest to see if you guys are still awake. Leave a comment here on my blog and we'll do a random drawing for a $25 gift certificate to Ruth's Chris Steak House (disclosure: a client of mine), good at any of their five locations in Hawaii. The winner will be announced in next week's blog!