Hawaii: In Real Life ~ Randy Kuba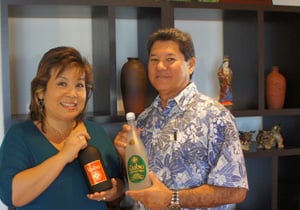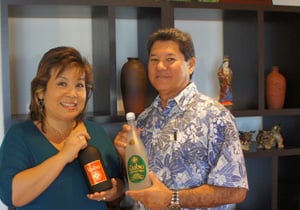 A couple of weeks ago, when I was doing the preview for the Awamori Festival, I learned quite a bit about the rice-based distilled spirit that comes from Okinawa. The process and history were so interesting, that I had to do a video interview so you could learn about it, too. (Even cameraman Russ Sumida, who is never interested in food, drink or travel, was intrigued with it. Off-camera, he was asking a lot of questions. And he never asks questions.) Also with Christmas a week away, this might serve as a very unique gift for the person who has everything, because it's not likely they already have this for themselves.
It's one of the purest distilled spirits on the market, and Randy Kuba distributes it through his company, Lotus Spirits. Since it's so specialized, it's not something that's carried regularly in stores; you need to order it through Randy or his website, then pick it up at one of his retail partners. So few people know about awamori that it would probably not move on a store shelf, but the demand among fanatics is so great that Randy can sustain a business for it.
Awamori gets its distinct, but subtle flavor from two unique ingredients: Unlike shochu, awamori uses long-grain Thai rice for distilling; and instead of white koji mold, they use black koji mold — indigenous to Okinawa — in fermentation. The other unique element, as you will see in the video, is the clay/stone pot used to age the awamori. In Okinawa, they are often aged in mountain caves, as well. Like wine, it gets better with age, but the process is simpler and more foolproof: The clay pots can be stored in any kind of weather, and it won't be spoiled. The climate simply affects how the awamori turns out (sweet, smooth, complex, etc.), which is why many Okinawans have the clay pots in their homes. True connoisseurs will tell you, however, that Okinawa's sub-tropical climate makes the best awamori.
In our first video, Randy shows us the unique vessels for aging awamori:
The result is a clean, clear spirit that tastes similar to sake and shochu, but with its own complex notes. It's usually consumed straight and chilled, but if you find it too strong you can add one (and only one) drop of lime into your glass. There are different strengths, as we'll learn in the second video, which I realized is why Okinawans have hair on their chests! Visit HawaiiIRL.com to learn more about awamori and the insider community that enjoys it!
To order awamori from Randy (or even your own starter kit!), visit www.LotusSpirits.com. He says you can pick up your order at a retail partner near you within 24 hours.