Hawaii: In Real Life ~ Primo Popcorn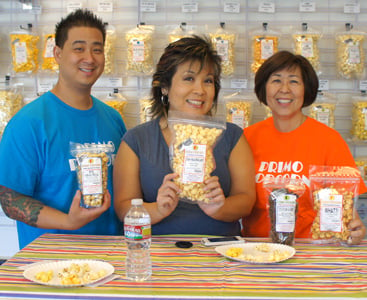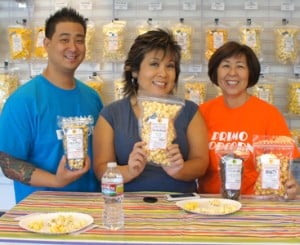 You may have heard that Hawaiian Airlines revamped its snack service and product offerings this past summer. In addition to complimentary meals and wine, they have a new "pau hana snack bar" on mainland flights, where passengers can mosey up to the galley and get drink refills or island-style snacks like spam musubi. If you forget omiyage from Hawaii, you can buy local products on the plane at the pau hana snack bar, like Kona Chips with furikakesSeasoning, guava macadamia Kauai Kookies, Tanioka's li hing mango slices and Hawaiian Host chocolate covered macadamia nuts.
You can also buy wasabi ranch or li hing pineapple flavored popcorn by Primo Popcorn, a relatively new company that has been a popular gift stop at craft fairs, expos, or their store on Sand Island Access Road. There's dozens of flavors at their store — from sweet to savory to spicy to weird — that have made them such a hit. You can get beer-flavored Heinekorn, a meaty prime rib end cut, cheesy garlic bread, and deluxe birthday cake or Kona coffee flavors for those with a sweet tooth. You can even get classic local favorites like furikake with kakimochi. We decided to check them out before I left on my own Hawaiian Airlines flight last week, to see the range of flavors.
You can go to their store and sample them for yourself to see what they taste like — and you may be surprised, as I was, at what you end up liking. If you're on the mainland, you can order through their website at www.primopopcorn.com.
We sampled more "plates" with Leo and Rylen and took a quick tour of their sale rack so you can see the other flavors they have. Visit HawaiiIRL.com to see more!