Hawaii: In Real Life ~ Pancho Abalos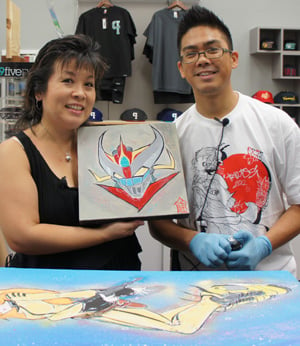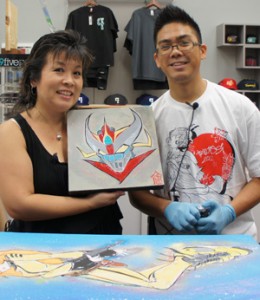 If you're into local art, you are probably very familiar with Ewa Beach painter Pancho Abalos (@PanchoAbalos): He's known for taking familiar Japanese art styles and incorporating it into his own modern street style to create unique pieces. Girls with anime faces in elaborate, flowing kimonos wearing modern sneakers; ninja with Kikaida masks; or even goldfish are painted with bright colors and intricate details and a definitive, edgy twist.
I covered his "Tributes" gallery opening about two months ago, and was so impressed, I wanted to talk to him before his new show this Saturday so you can see his art for yourself. Whereas his last show paid homage to Japan's Edo period, this new one, called "J-Pop," will focus on various pop culture manga and cartoon icons — all painted with Pancho's signature urban flair. "I'm all about giving credit where it's due and acknowledging the source, and I think that's Japanese popular culture. Hey, before Power Rangers, there was Kikaida," he said.
The event is from 5:30 to 7:30 p.m. on August 11 at Prototype (@PrototypeHawaii) in Pearlridge Center (Downtown, toward Sears). It's free to the public and will feature DJ Yogurt (@DJYogurt) of Kapolei spinning music and a live performance by emcee Prie. During the show, Art bCause will showcase hand-made jewelry, fashion and original work from local artists like Chanel Tanaka in a silent auction to benefit the Leukemia & Lymphoma Society (LLS). All of Pancho's original art work will be available for purchase along with prints and apparel. If you miss this opening event, you can still see his works in Prototype through September 10.
Pancho has been a live muralist with the Ground Up Movement and has shown in the Philippines and Los Angeles. His collaborations include pairings with many well-known artists of the urban art genre such as Alfie Numeric and Dave Araquel of Beatrock clothing. Other showings have included charity shows in New York and being a Scion Hawaii featured artist from 2006 to 2007.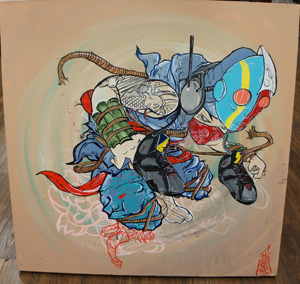 If you want to see more of Pancho and learn more about his art and the show, visit HawaiiIRL.com.
J-Pop
Opening at Prototype, Pearlridge Downtown
Saturday, August 11 ~ 5:30 to 7:30 p.m.
Free admission
(Art on display through September 10)