Hawaii: In Real Life ~ Orogold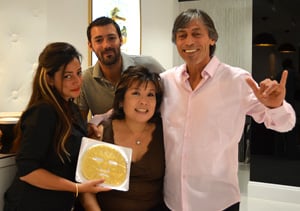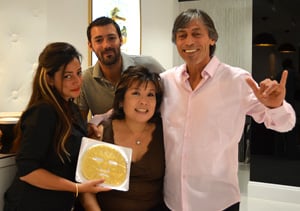 While I was out of town, my business partner, Russ Sumida (@Parkrat) went to the grand opening of Orogold, a new skincare/cosmetics store in Waikiki, to take photos. When I came home, he said, "You gotta try this place." Oh, really? Thanks a lot, bud. I know my skin needs, work, but…
Turns out, he was impressed with their set up — their fancy, Beverly Hills-style boutique stands out in the casual Outrigger Reef Hotel — and their interesting products, which are made or infused with 24 karat gold. Since gold is hypoallergenic and is known to have antioxidant and anti-inflammatory properties, it's an ideal ingredient in improving, healing, and strengthening the skin.
We tried a couple of their face and body products, and despite being a bit skeptical, I really did see instant results in the store, as you'll see in the video below. It was rather timely, since I've had bags under my eyes from lack of sleep following my last trip. The products felt good and smelled good, too.
I took home a free sample of one of their body moisturizers to try at home — you can go to the store and ask for a sample, any time — and put it on a part of my leg with an extreme dry patch. I was pretty astounded to find the patch disappeared in minutes. I don't know if this will be the same for everyone, but my experience was full of instant results.
To learn more about Orogold, its benefits on the skin, and the new Waikiki store, visit HawaiiIRL.com as we try a hydrophilic gel eye mask while talking story. Check out the results! Also, you can see more still photos here.