Hawaii: In Real Life ~ Oktoberfest at Outrigger Reef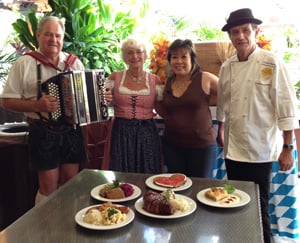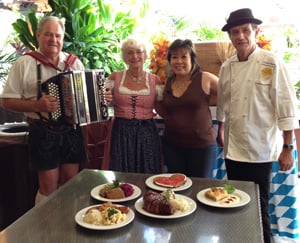 If you can't get to the big event in Munich, or just want a taste of Germany, the Outrigger Reef is having its first Oktoberfest celebration starting tomorrow through October 19. Guido Ulmann — the fun-loving German-Swiss executive chef of the hotel — is making traditional Bavarian dishes such as bratwurst (pork sausage), bockwurst (veal sausage), kasseler rippchen (smoked pork loin), German potato salad, spaetzle (German pasta), sauerkraut, and Bavarian apple raisin strudel. If you remember to order ahead, get the schweinehaxe ($32), a three-pound ham shank that is roasted and pickled, and served with sauerkraut and German mashed potatoes. Oh, yeah, and there's beer!
The Edelweiss Trio will be on hand to provide traditional German music (yes, you can dance) and I'm told there will be a yodeling contest. We got a taste of what to expect with Guido and the Edelweiss Trio, um, duo, at the hotel, and did the Chicken Dance:
Note: This was shot last week, and this was the Edelweiss Trio's first Chicken Dance performance since last year, so they were a little rusty. You notice we left out the clucking motion!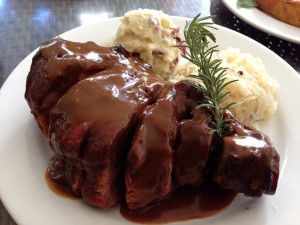 Okay, we literally got a taste of Bavaria in the next segment, as the hotel brought out some of the items they'll be serving. Visit HawaiiIRL.com to see the food and learn more about Oktoberfest!
The event is from 5 to 10 p.m. in the hotel's Diamond Head Terrace. Live music by the Edelweiss Trio will take place from 6 to 9 p.m. each evening. Food will be served ala carte, with prices ranging from $13.50 to $32 for entrées (inclusive of tax and tip). Cover charge is $10 and validated valet parking is $6. Call 808-924-6025 for reservations; and call early, as the hotel says they are close to selling out.