Hawaii: In Real Life ~ Nightmares Live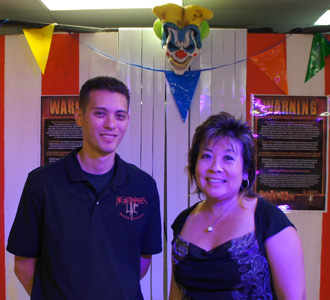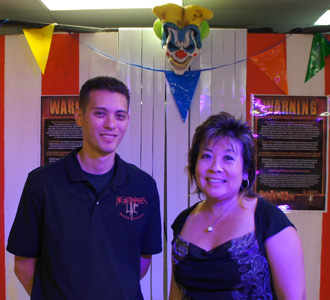 I'm going out on a limb here to admit to you readers that I am a bit of a ghost magnet. Since I have my own ghost stories to tell, there's never been any need (or desire) to go to a Halloween haunted house — especially not one like Nightmares Live (@NightmaresLive), which is not just the largest haunted house attraction in Hawaii, but probably one of the most elaborately gruesome.
We visited with Kevin, the owner and twisted creative mind behind Nightmares Live, to hear what goes into this production. Every year, the theme changes so you can enjoy(?) the surprises at every turn; this year, the concept is a haunted circus, with arcade game displays, a peek at the back office, the circus itself, and clowns … lots of clowns. They offered to take me through some of the rooms with all the lights on so we could give you a small preview of the attraction, but I was so creeped out, I couldn't stand to be there for more than a couple of minutes. (I mean this as a good thing, for all you oddballs who like to have a scary good time at a haunted house.) So both this and our 10-minute HawaiiIRL video were done in safe, mild spots. Sorry, guys, you're going to have to visit this place to see it yourself.
Here's the thing: Neither cameraman Russ Sumida nor I knew that this attraction is housed in the old morgue until halfway through the first interview. Yeah, you know what that means. Remember last year's video with Spooky Kine Investigations? Russ is still wigged out about that incident, so would only process this year's video during daylight hours.
Oh, one last thing: The Nightmares Live staff is strictly forbidden to touch customers. So if you feel someone tugging at your sleeve … that's not part of the attraction.
Nightmares Live
801 Dillingham Blvd. (Next to Max's of Manila, mauka of Costco)
$10 presale at UH Campus Center; $13 at the door
Open every weekend in October, and throughout the last week of the month