Hawaii: In Real Life ~ Nani Moon Mead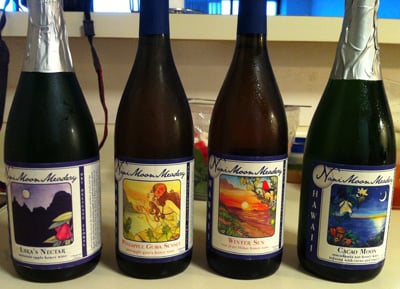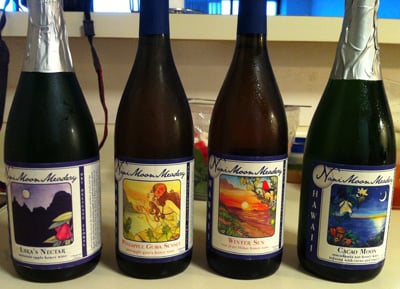 Did you know that we have wine produced on Kauai? And not just any wine: Nani Moon is a mead, or a honey-based wine, and is handcrafted in small batches using fruits and honey exclusively from local, independent farmers and beekeepers.
Owner/winemaker Stephanie Krieger says Nani Moon (@NaniMoon) is the only winery in Hawaii that sources 100 percent of their fermentables locally and is chemical- and sulfate-free; all the wine is produced, bottled and sold onsite at Nani Moon Meadery & Tasting Room in Kapaa. You can't get Nani Moon Mead outside of Hawaii, so this makes a very unique gift for visiting friends.
Not that you need another compelling reason to buy local, but mead is a unique gift for newlyweds, as well. Mead is considered to be the oldest alcoholic beverage in recorded history, with origins in European, African, and Asian societies dating back 6,000 years.The legend of the "honeymoon" originates from couples enjoying mead during their wedding ceremony and for one full moon cycle after that, to promote fertility and prosperity. Also, the full moon closest to the summer solstice is known as the "Mead Moon," and ancient rituals suggest drinking mead under it to promote healing, fertility and prosperity throughout the year.
Stephanie recently flew over from Kauai to talk story and taste her mead:
If you want to know more about Nani Moon Mead and other cool stuff at the winery, visit HawaiiIRL.com as we talk story and taste more.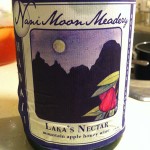 I recently did a tasting with my neighbors to get a group opinion on the wines. We were instructed to taste them in the order shown, so if you are tasting them outside of Kauai, this is the recommended sequence. Also note, these are honey wines, not the kind made from grapes, so the flavor profile is vastly different — don't drink these thinking you will have the same experience. Adjust your palate and your mindset, and enjoy the meads for what they are. Here's a brief summary of our thoughts.
Laka's Nectar is a mountain apple honey wine and available only on Kauai. Like the mountain apple, the flavor is very light and slightly floral. This is a good "starter" wine for people who don't usually drink wine (or mead), as it's easy to drink. People who are used to full, strong cabernets may think this is "watery," but remember, this is honey-based wine, not grape-based.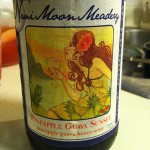 Pineapple Guava Sunset was a little too tart and dry for our group, but Stephanie says this is one of her best sellers. I think it's probably ideally paired with food rather than sipping; the website recommends Asian fare, fish and chicken, which sounds right. We tried it with cheese, salami, spicy garlic edamame, and other pupu with strong flavors, and that seemed to work better.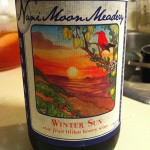 Winter Sun is made with star fruit and lilikoi, and as you saw on the video, drinking it is like biting into the actual fruit. This is also ideally paired with food (although we liked it better than the Pineapple Guava), like barbecued meats and teriyaki flavors. I should also note that drinking this wine after talking to Stephanie made the wine taste different. Once she had explained her local sourcing, it suddenly tasted like Kauai. Does that make sense? It definitely makes a difference to know how very local her wines are.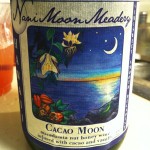 Cacao Moon is made with macadamia nut blossom honey and is infused with organic Kauai cacao and vanilla beans — this is more of a dessert wine. I actually really liked this one, as you could taste the vanilla and cacao in a subtle way that wasn't cloying. I still had half a bottle left and dropped it at Cathy's Marketplace to hold for me while I shopped; some of the girls asked for a taste, started swooning, and that's the last I saw of the bottle. I guess that's why Stephanie's friends call this one "the panty dropper."