Hawaii: In Real Life ~ MOSSA at the YMCA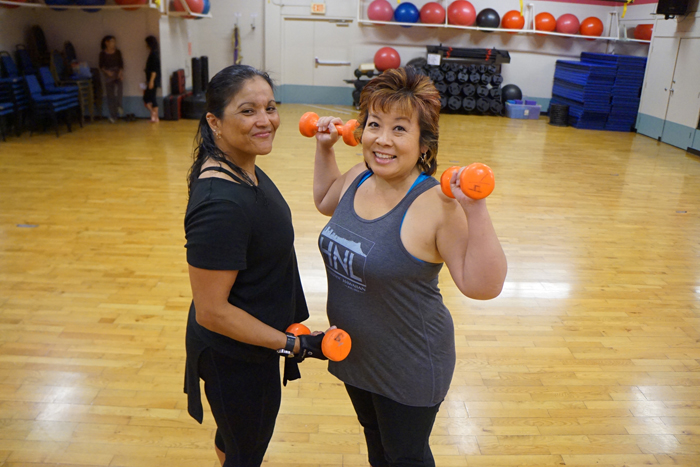 So, how are those New Year resolutions going? If you're looking for a workout facility, the YMCA of Honolulu's six branches are having an open house this Saturday, where you can tour the facilities, try a class, and meet other people doing the same.
Since the Central YMCA facility closed last year, my membership lapsed, so I'll be at one or two of the branches this weekend evaluating my options. A lot has changed in the last couple of years. The cardio machines became super high-tech. There's a mobile app so you can find out what time the next class is at the nearest branch, since your membership spans all Oahu locations. And there's a class called MOSSA, which is new to Hawaii and exclusive to the YMCA of Honolulu.
"Mossa" is Italian for move, excite, and stir, and the developers — Body Training Systems, who have been bringing new workouts to the world for almost 20 years — created this to get people moving and constantly challenge their bodies. You know how your workout routine gets repetitive and your body gets used to it and plateaus on results? MOSSA is supposed to ensure you are constantly changing, which then gives you constant results.
I keep asking people at the YMCA how MOSSA is different, but they had to demonstrate a little for me — and even then, Group Exercise Coordinator Chaz Deguzman kept telling me it's all going to change again as they introduce new exercise modules this month. They currently feature the Group Power module, which combines traditional strength exercises and the hottest functional training moves, using a barbell, weight plates, and your body weight in high-rep training and athletic movements.
Here's a quick look at a small demo with Chaz, so you can get a little idea of how coordinated you need to be. I thought I needed to be very athletic, but it looks like even I can do this.
You can try MOSSA yourself at the Leeward, Mililani and Nuuanu YMCA branches (click here for the schedule) this month, even if you are not a member. The YMCA is offering a "try the Y for free" three-day pass through January 31, where you can get in on any three days at any branch — and that applies to all facilities, not just MOSSA.
I already got my three-day pass yesterday to try some of the cardio. If you attend their open houses this Saturday, January 9, and sign up to join on that day, you also get membership at the second-year rate and they'll throw in a free month of membership if you stay with them through March 30, 2016 (to ensure you don't fall off the New Year resolution wagon).
See you at the YMCA this Saturday!