Hawaii: In Real Life ~ Menage a trois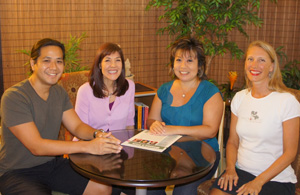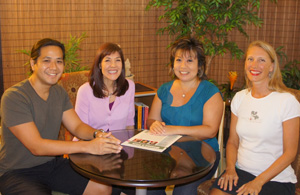 No, that title isn't what you think! Do you believe that everything happens for a reason? I do, and the older I get, the more things start connecting in the most amazing ways — just as the new Cirque show, Quidam, encourages you to note the various strangers passing in your life for the impact they may have on it.
Such is the case with Alice Inoue (@AliceInoue), Leslie Ashburn (@MacroHawaii), and Dr. Chad Sato. Each of them have their own businesses, where their clients seek mental, physical, and spiritual health. Over the years, they've crossed paths through the overlap in their work, and found that they have many of the same clients … probably because they all have similar philosophies for living a full, healthy life.
Many of you have probably taken Alice's workshops; this Sunday, for the first time, these three are collaborating to address all aspects of health with regard to food, environment, and body-mind-spirit wellness.
Alice explained that this isn't designed to make you suddenly overhaul your life; it's meant to give you the information and tools to help you move forward at the pace you choose. "We're merely offering information from our respective fields that may help you to understand and get inspired to make mini-changes. The atmosphere will be totally non-judgmental, and we will offer baby steps to get you started. We want you to see the bigger picture and inspire you to move toward it," she said.
One example is battling stress and fatigue, which is something I'm plagued with constantly. Here's a quick preview of some things you will learn.
Want to see more? We got more insight from the three of them on achieving 360-degree wellness and what they're about. Visit HawaiiIRL.com to see more! BONUS: $97 early bird fee has been extended for Hawaii IRL viewers.
Menage a Trois ~ Tools for 360 degrees of wellness
Sunday, October 7 ~ 1 to 6 p.m.
Macy's special events room, Ala Moana Center
Click here to register online