Hawaii: In Real Life ~ meeting Sammy Hagar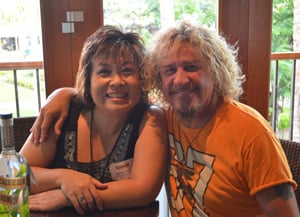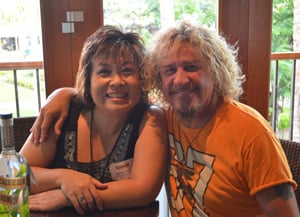 Who would have thought that a big-time rocker like Sammy Hagar would be preaching the "buy local" philosophy in Hawaii? He not only talks the talk, he walks the walk.
Hagar — best known as one of the lead singers for Van Halen and now, his band Chickenfoot — has launched Sammy's Beach Bar Rum, a spirit made to his specifications. This Maui-made premium silver rum is handcrafted from the first pressing of virgin Maui sugar cane and Menehune water, at Haliimaile Distilling Company. It's named after his Beach Bar Cafe at the Maui airport, and get this: he donates all the profits from that restaurant to local Maui charities. So get your fill of food and drink at the airport, and feel good about the karmic benefits, too.
People in Hawaii get first crack at Sammy's Beach Bar Rum, as it will be available at retail outlets, restaurants and bars throughout the state, and only in the state, for now. Distribution will be expanded to select Mainland states in early 2012. The price for a bottle is about $24.99.
We got to meet the Rock and Roll Hall of Famer at the Hard Rock Cafe yesterday in the media blitz to launch his rum. He was amazingly down to earth, very approachable, and easy to talk to, with a great appreciation for his fans. Out of all the celebrities I've met in my life, Sammy Hagar is now one of my favorites.
Sammy's Beach Bar Rum launch
We managed to squeeze in a quick interview with him to talk about the rum. I apologize in advance for the ambient noise, as we were trying to work under pressure to rush the setup and, subsequently, rush the interview.
We also got to talk to the distiller, Mark Nigbur, who gave a really good overview of the rum, the company, and the history of his meeting Hagar. Did you know that, although this is a sugar cane-based rum, you can't call it cachaça? Find out why, and more, at HawaiiIRL.com.
You can also see more photos here.