Hawaii: In Real Life ~ Meeting Martin Yan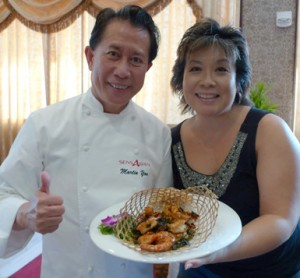 Whether you're a foodie or not, you probably have heard of television cooking star Martin Yan, who was julienning veggies and wokking up meals on the small screen long before the Food Network became big. For more than 30 years, Yan has found his way into living rooms in about 60 countries, dishing out practical tips for Chinese cooking and expertly showing how to wield a cleaver.
His demystification of Chinese food broke it down for the everyday cook, leading to his famous slogan, "If Yan can cook, so can you!"
Yan blew through Honolulu on vacation recently and, as a smaht Chinese will do, did some work while he was here. I sat with him after his cooking demo at Jade Dynasty to ask about his background (for the benefit of certain camera men who had never heard of him), his favorite Hawaii restaurants, and his favorite dishes to cook at home.
Here's a quick gallery of what we ate (except the snow mountain char siu buns, which I didn't get to have):
Martin Yan cooking demo
Want to see more Martin Yan? Here's an extended video at HawaiiIRL.com.