Hawaii: In Real Life ~ Manoa Chocolate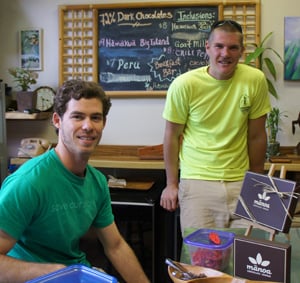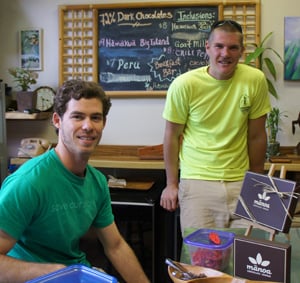 There's something about locally made products, especially in Hawaii, that are just so darn appealing. Maybe it's because we know a lot of the people who are bringing these products to fruition, and the exact places the ingredients come from. Maybe it's because we know, ourselves, what work goes into creating these products. And maybe — at least for me — we get to see the passion and creative ways these people make things work, just to do the right thing while making a living.
Such is the case with Manoa Chocolate. I was lucky to get a little tour of their place recently when a Sapporo blogger came to town and we took her around Kailua with Hawaiian Airlines. We met Dylan Butterbaugh and Drew Farwell, who not only gave us a taste of their various chocolates but showed us around their shop so we could see how they make their chocolate.
You've seen how Madre Chocolate (also in Kailua) goes through the process; here's a grassroots operation that employs some quirky methods to get their chocolate to the world. I was so impressed, I had to get their process on video so I could show you what they do. (Make note of the Dora the Explorer bike!)
Cool, huh? I made a longer video showing the various chocolates we tried, and our real-time reactions to them (so you know what your reaction might be). Visit HawaiiIRL.com to see it!