Hawaii: In Real Life ~ Luibueno's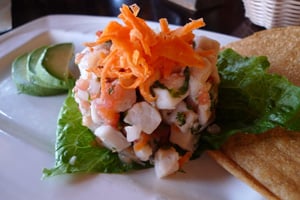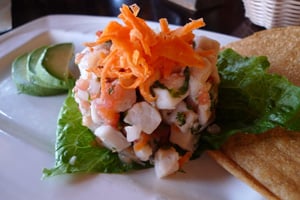 If you're in Haleiwa and you want a nice meal with great service, consider Luibueno's Fishmarket in the Haleiwa Marketplace. They've only been open a year and a half, but they're a household name with residents and visitors alike. We went for happy hour yesterday — which is 3 to 5 p.m. and 9:30 to 10:30 p.m. daily — and it was busy, but mellow. By the time we left, there was a crowd waiting to get in.
I don't know a lot about Mexican food, but my friend Corinna Gandara does, since her family is from there. She gave our dinner "two thumbs up," as did I. Dishes are made from scratch daily with fresh ingredients, and even the margaritas feature hand-squeezed lime juice. The spicy items had a delicate, lingering spiciness, not the usual heat that punches you in the mouth. You'll also find different textures and flavors in everything: for example, the shredded carrots in the ceviche are not just to add color, but give each bite a little sweetness and crunch.
In the midst of busy service, Luis Silva himself — who spent a lot of time in Guadalajara, where his father was born — checked in on us, so we made him tell us more about Luibueno's:
If you want to keep current on Luibueno's, check them out on Facebook.