Hawaii: In Real Life ~ Know your butcher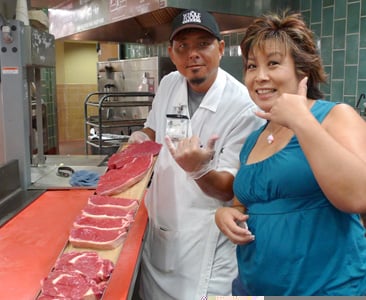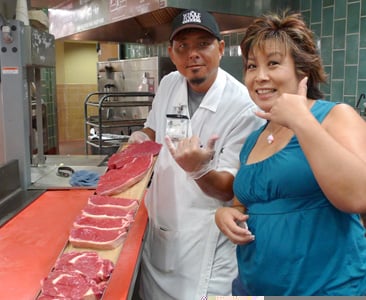 When I was little, my mom would take me to Chun Hoon Market on Nuuanu Avenue for the weekly grocery run. Part of that trip always involved a visit to the butcher, Burt — we saw him so often, I called him "Uncle Burt" — and he would cut the meats that she ordered, right in front of us.
Sometimes, if my mom was trying out a new recipe, Burt would make recommendations on the cut of meat to use and give her quick tips on how to cook it for the best results. It's definitely a lost art. When I go to the store, I'm dismayed to see rows and rows of pre-packaged meats and no more uncles like Burt behind the counter to advise me on which ones to choose.
Whole Foods is, to my knowledge, the only place on the island with an active, open meat case where they cut your meat to order. We visited Al, one of their butchers, to get to know him, get to know the meats, and get some tips on selecting the right ones for our next tailgate. It's also cool to know that they carry some local meats, if you are looking to support Hawaii ranchers.
As Al said, the best and simplest way to cook a steak is with salt and pepper… and that's it. Here's a quick recipe from the Whole Foods website that includes lemon, which I would say is definitely optional, depending on your taste.
New York strip steaks come from the strip loin of the cow. Since they're a relatively tender cut of meat they're perfect for cooking on the grill. Serve with a bit of barbecue sauce and some steamed veggies on the side, if desired.
Ingredients
2 pounds (1 1/2-inch thick) New York strip steaks
Salt and pepper to taste
2 cloves garlic, lightly crushed
Extra virgin olive oil
1 lemon, cut into wedges
Method
Light the grill 30 minutes before beginning to cook. Salt and pepper the steaks liberally on both sides. When the coals have burned down, but are hot enough that you can only hold your hand over them for a couple of seconds, place the steaks on the grill. Grill each side 3 to 5 minutes, turning once. Remove steaks from the grill, rub with crushed garlic, drizzle with oil and serve with lemon wedges on the side.