Hawaii: In Real Life ~ Kevin Aoki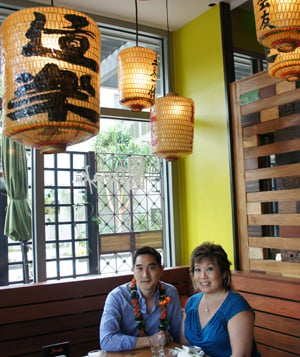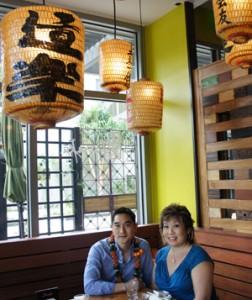 As you saw from Ed Morita's blog, Doraku Sushi recently opened their second Hawaii location on Kapiolani Blvd. I knew that owner Kevin Aoki was the son of Benihana chain founder Rocky Aoki, but if you met him, you'd never know the generations of restaurant success behind him. He's very laid back and kind of soft spoken, but friendly and welcoming. As he took us on a mini-tour of the new restaurant the other day, he explained some of the personal touches — like the dedication to his grandfather, Yunosuke, who actually started the first Benihana in Japan — and it left an unusually deep impression on me.
When you go to the restaurant, you'll see a wood block with kanji near the sushi bar, and the English translation: "Making friends with great food." Kevin says his grandfather opened the first Benihana (which was actually a coffee shop) to make friends, and displayed this kanji on a sign in the venue. He's since adopted it as a philosophy for his own restaurants.
I guess the simple, old-school reason for having a restaurant was suddenly refreshing to me. In today's competitive world of foodies, yelpers, bloggers, chefs and wannabe chefs, chef-artists, bartenders and mixologists, and hopeful entrepreneurs, the concept of simply opening a restaurant to make friends jolted me back to reality. There's nothing wrong with wanting to express your creativity through food or share your knowledge through enjoying it, but at the end of the day — or maybe at the beginning of it — we're here to make friends, and build a supportive community beyond the food in front of us.
But, I digress … again. Here's a little talk story session with Kevin on his restaurants, the family, and what you can expect at the new Doraku.