Hawaii: In Real Life ~ Keola Warren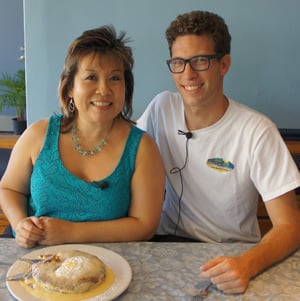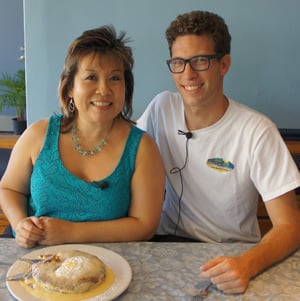 As you know, Hawaii-based pancakes are a big fad in Japan and several local restaurants have opened branches there — to crowds that stand in line for two to three hours just for breakfast. In yesterday's blog about my Top 5 pancake places, I mentioned that Moke's Bread & Breakfast has signed a partnership with Sanrio Co. (yes, of Hello Kitty fame) to open their first Japanese branch in Nakameguro near Shibuya, around Sept. 1.
How did this happen? Several months ago, Japanese PR maven Yumi Ozaki asked if I knew of any locally owned restaurants that serve good pancakes. Sanrio was coming to town in a week and asked her to help them meet restaurant owners, since she is fluently bilingual and has a good network here. Well, I know good pancakes, but I don't know all the restaurant owners, so I gave her a few suggestions and introduced her to Keola Warren, whose family owns Moke's Bread and Breakfast.
The Sanrio execs came to town, ate some pancakes, and liked what they were cooking at Moke's. And the rest, as they say, is history. Now, if you've been there, you know that the restaurant is small and there's only street parking. They're well-known with breakfast fanatics and Kailua residents, but there are still a lot of people out there who haven't heard of them … yet. It's very a laid-back operation.
Moke himself — Keola's dad — was a Kamehameha grad and moved to Kauai after high school to surf and work (in a restaurant and on a pig farm). After eight years, he came back to Oahu, went through KCC's culinary program (back when it was on Kapiolani!) and did more restaurant work, and even went on to work under Chef Mavro at Halekulani as his head butcher. His thought was probably to have a nice little restaurant of his own that turned out good food and provided a good living. I'm guessing this, because it's rare for anyone to meet Moke, much less see him. He likes to stay in the kitchen and keep to himself, work hard and do the samurai dad thing.
The expansion to Japan, the partnership with Sanrio and the sudden influx of attention is probably out of Moke's comfort zone — he had to wear a suit to meet with Sanrio, and he hadn't worn a suit since his wedding day. It's that laid back, local flavor that makes Moke's Bread and Breakfast the charming little restaurant that it is, and probably what appealed to Sanrio Co. (in addition to the food). We talked story with Keola at the restaurant, ate some lilikoi pancakes, and found out more about this new restaurant in Japan. Itadakimasu!
We talked story some more with Keola about the history of the restaurant, what's going on in Kailua, and what's next for them. You can see the restaurant's expansion, as well. Visit HawaiiIRL.com to find out more!
To see Olena Heu's story on KHON, click here.