Hawaii: In Real Life ~ Kalei Gamiao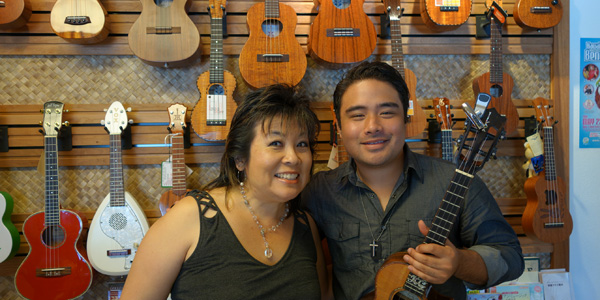 As mentioned in an earlier post about Mele Mei in Hawaii, this month is full of musical events throughout the state — many of them free — all featuring big names local entertainment. If you appreciate local-grown music, these free concerts are great for the whole family.
One of the biggest free events happens at the end of this month: The Ukulele Picnic. Actually, the main event is on May 25 at Kakaako Waterfront Park, an all-day festival with nine ukulele stars from Japan; one from Thailand; one from China; one from Los Angeles; and 12 from Hawaii including Pali Kaaihue, Herb Ohta Jr., Natalie Ai Kamauu, Kalei Gamiao, Kamakakehau Fernandez, Taimane Gardner, Jody Kamisato, Dr. Trey, Kris Fuchigami and Keith Nakaganeku. The event runs from 9 a.m. to 6 p.m. and will have food trucks and activities in addition to the all-day concert.
But wait, there's more: If you play ukulele, you can enter a contest (free for Hawaii residents) for a chance to win a big-time ukulele, plus play onstage alongside the All-Stars at the Ukulele picnic. Just fill out this form by May 14, show up at Ala Moana Center on May 24, and play.
One thing that's not free is the Ukulele Picnic benefit concert, which is being held on May 23 to raise funds for an ukulele museum here in Hawaii. Tickets are $60 in advance, $65 at the door and includes pupus plus a concert with Don Tiki, Raiatea Helm, Bryan Tolentino, Benny Chong, Byron Yasui, and Aidan James.
We caught up with ukulele star (and wannabe competitive sushi eater) Kalei Gamiao, who talked about the Ukulele Picnic and gave us a sample of his music:
We talked story some more with Kalei to get more details on the Ukulele Picnic events, and see what else he's up to in the world. Visit HawaiiIRL.com for more!
If you're unfamiliar with Kalei, here's video that I shot of him playing with Taimane Gardner and Brittni Paiva at last year's Na Hoku Hanohano Awards (it's shaky at the beginning, but then I sat down, I promise):