Hawaii: In Real Life ~ Kaiser Permanente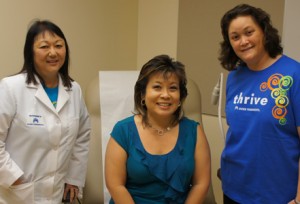 If you live or work in the Aiea area, your healthcare options are about to get a little more convenient in a few weeks. Kaiser Permanente is opening its 20th Hawaii clinic (11th on Oahu) at Pearlridge Center on October 4, complete with a lab, pharmacy, state-of-the-art facilities, and free parking.
They held a preview open house this past weekend, so Dr. Marsha Marumoto, who will be the head of the clinic, and her clinic manager, Janet Camacho, took me on a tour so you can get a sneak peek before they open.
Why am I so interested? Little known fact: I'm a lifelong Kaiser member. I was born in the Waikiki clinic where the Hawaii Prince Hotel now stands, if you can believe that (or remember that far). I don't know what other pediatricians are like, but mine was Dr. Andre Choan, the best doctor in the world, who gave me fish-shaped vitamins and always helped me feel at ease over getting shots. At some point — get this —Dr. Marumoto interned in pediatrics with Dr. Choan, and thought, "I want to be part of this team." She told me stories of working with him when we met for the first time on Saturday. Small world, huh?
I also wanted to get a look inside, since Pearlridge is my client and I go there at least once a week. I can still go to my regular doctors in Honolulu, but on days that I work out there, it's good to know I can make appointments or pick up medications without jumping through hoops. Here's a quick look:
Mahalo to Lance Agena for being my cameraman on the fly. If you want to get the most current updates from Kaiser, you can follow them on Instagram and Twitter at @KPHawaii, or on Facebook. That was a pretty short tour, so to see more and find out how their technology makes your life easier (mail order prescriptions, anyone?), visit HawaiiIRL.com.