Hawaii: In Real Life ~ Justin Yu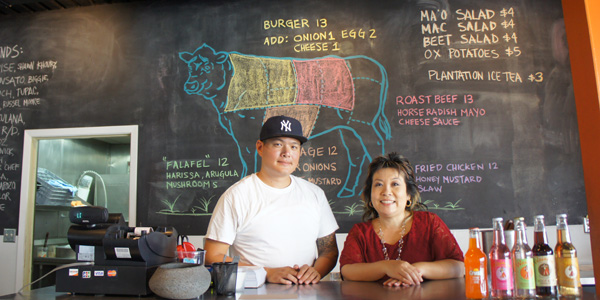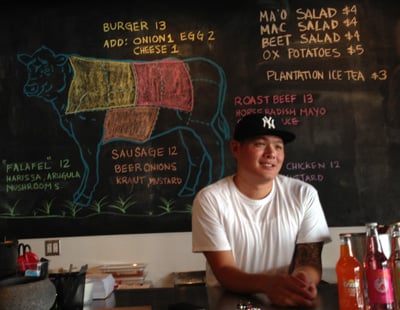 A lot has been said and speculated at the Whole Ox Deli in Kakaako lately, with the changes that have taken place. How many of you have gone to see for yourself what the new menu and the new chef is like? In print and on the Internet, even if you try to make statements as detailed as possible, things can sometimes get misconstrued because body language and vocal inflections don't always translate well.
Such may be the case with Justin Yu, the new chef at the Ox. I wanted to talk story with Justin on video to see what he's like in person.
At the risk of biasing your judgement of my interview, I'm going to go off my usual format by giving you my impression based on this short encounter: He was super uncomfortable talking about himself in personal terms — for example, dragging out any information on his favorite sports, off camera, was quite a process. He seems genuine and smart, and a bit of a food nerd the way Nonstop blogger Ed Morita is. In fact, the photo of him (above, left) is a rare moment when he relaxed and his face lit up, a point where he was talking story with Ed off-camera about food and ingredients. He seems a little nervous here in video, but as with some of our interviewees, our best and most natural moments happened when the camera wasn't rolling. So, you'll get to know him a bit here, but I'd recommend you go to the Ox to meet him yourself.
We continued the conversation to find out more about what's new at the Ox, and to get to know Justin a little better on a personal level. What's his favorite food? Does he play sports? Is he really a street cage fighter? Visit HawaiiIRL.com to find out, and more.
Nonstop's new food blogger Grant Shindo has been to the Whole Ox recently for both lunch and dinner. Here's his review of some dishes he tried, including the dinner tasting menu: